The "Ondo! Nupu" masturbator is a realistic double faced onahole: one side represents a mouth, and the other one, a vulva. An onahole is a penetrable cylindric Japanese masturbator : in some way, the japanese equivalent of a Fleshlight. This word, mixing English and Japanese, could be roughtly translated as "woman's hole".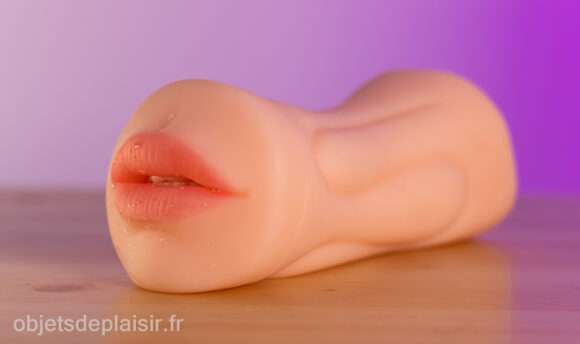 The person from MotsuToys' who proposed us to review it presented it to us as "the most bang for your buck, litterally". Basically, with this very unexpensive sex toy, you won't regret your investment… Anyway, this is what we're going to check in this review.
I never had the occasion to review this kind of men's sex toys before, and I must admit that plain curiosity is the main reason that made me want to review it. Yet, I was pleasantly surprised when I received the "Ondo! Nupu" masturbator.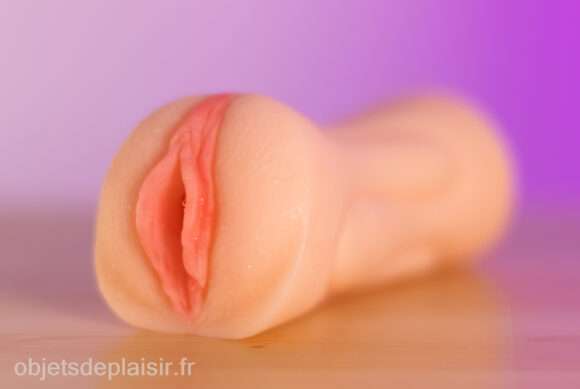 Packaging and unboxing
The packaging is simple and disposable, but it looks rather original and cute.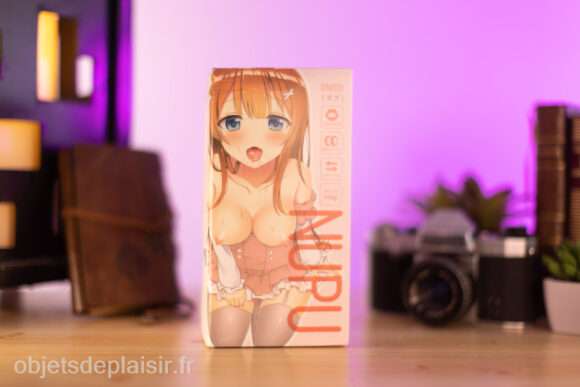 It is illustrated by a soft hentai-style drawing, that represents a topless young lady, showing her tongue with an expression of arousal.
This masturbator is made in China, but Ondo is a japanese brand – so a Chinese fabrication, but a Japanese quality control. We'll let you draw your own conclusions, but as far as we're concerned, it tends to gain our trust.
On  the side of the box, we can see a sectional view of the internal structure of the masturbator.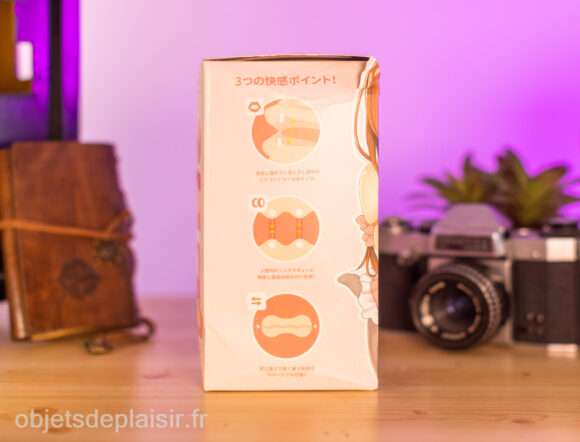 No storage is provided, but Motsutoys sells cheap but nice toy bags, for less than 5 euros. You can find them by clicking on the link below. We don't have much to tell you about them, but they look sober and quite aesthetic. They do the job and don't cost too much.
The Kyo sex toy bag at Motsutoys'
Ondo! Nupu masturbator's look
The Ondo! Nupu masturbatar is around twenty centimeters long. However, as it is very soft and stretchy, this length may vary with its posture.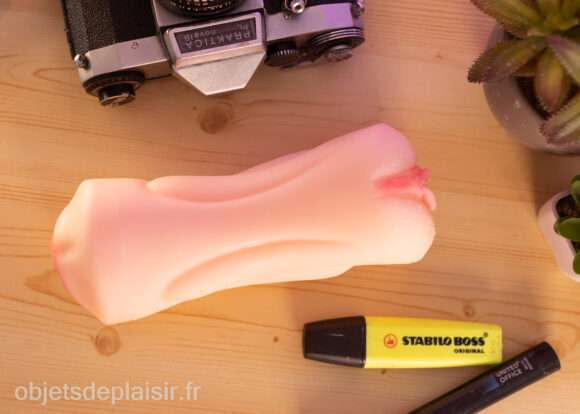 As I told you at the beginning of this article, this masturbatorr is double sided. One side is a mouth, the other one is a vagina.
Well, it's a cylinder with a mouth on one side, a vulva on the other side, so we won't go as far as calling it an anatomically realisic sex toy. It is a little kitsch indeed. Nevertheless, the mouth and the vulva look much better than what I expected – much better than most of most expensive toys such as Fleshlight masturbators.
The mouth has well defined pink lips, des teeth, and even a correctly proportioned movable tongue. Maybe it's its coloration, but it looks much less disturbing than the hungry mouth of the Autoblow 2 or the Autoblow AI.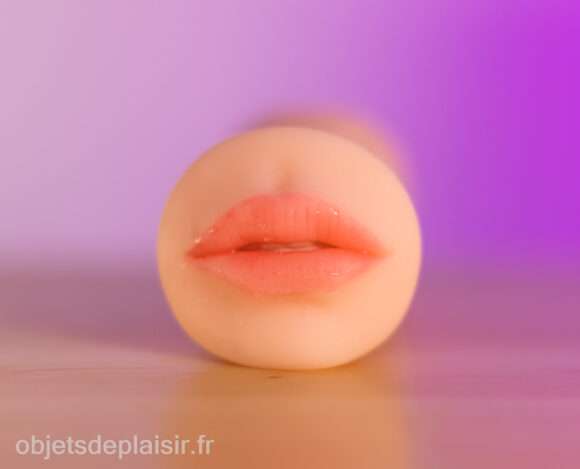 And the vulva part are some kind of "goosebumps" texture on the labia majora, that resembles an epilated ulva. Its labia minora have a pinkish color, and are slightly asymetrical, which makes them look more realistic. The clitoris looks also rather anatomically correct.
Of course, it is far from able to be mistaken for a true human vulva, but it is quite a good representation.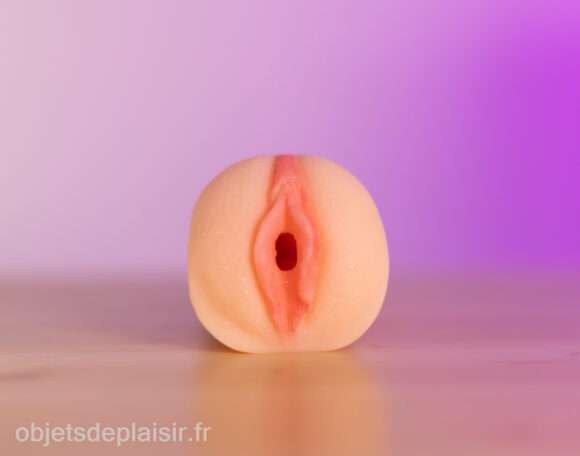 Here is an official illustration of the sex toy, that shows us its insides :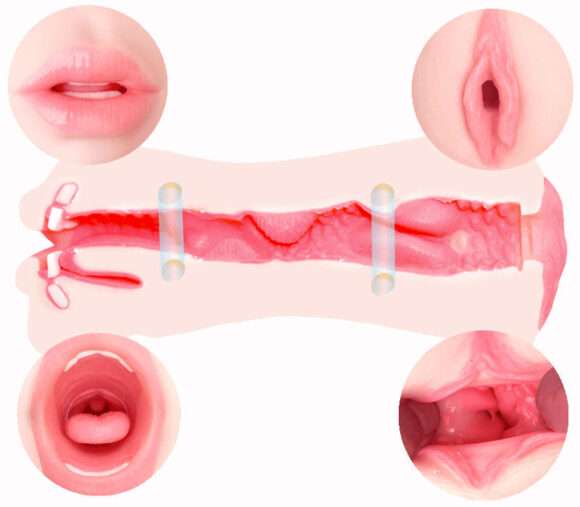 Texture and materials
The Ondo! Nupu masturbateur is made from TPE (or thermoplastic elastomer). This designation is hazy, it doesn't tell us much on its precise chemical composition, other than the fact that it is a body-safe material, without phtalates, but porous.
In concrete terms, its porosity implies that disinfecting it perfectly is impossible. However, it is the same for most masturbators, such as Fleshlight or Tenga, to mention only the most famous ones. It means that you won't be able to lend it to all your friends, nor to resell it after use. But usually, when you pick a sex toy that costs less than fifteen euros, it is unusual to intend to sell it after use.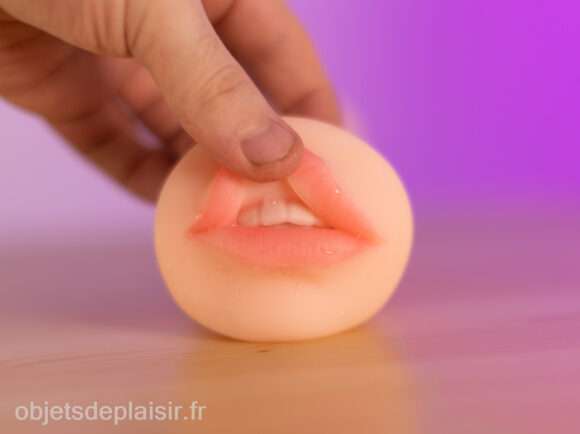 This material is odorless. To compare, the Tenga or the Autoblow are also odorless, but the Fleshlight have a nasty plastic smell, even after washing them a lot of times.
It is ultra-soft, and very stretchy. The touch is nice, comparable to some kind of stress relief ball. On the donwsides, this material tends to attract a lot of dust.
As a matter of texture, the teeth are firmer than the rest of the sex toy. Not firm enough to bite your penis, but still enough to feel them slightly, quand même, which add a slight touch of realism to the feeling. Their texture is similar to the one of a firm but flexible silicone dildo, such as the ones from Fun Factory, for example. The tongue is very flexible, soft and mobile.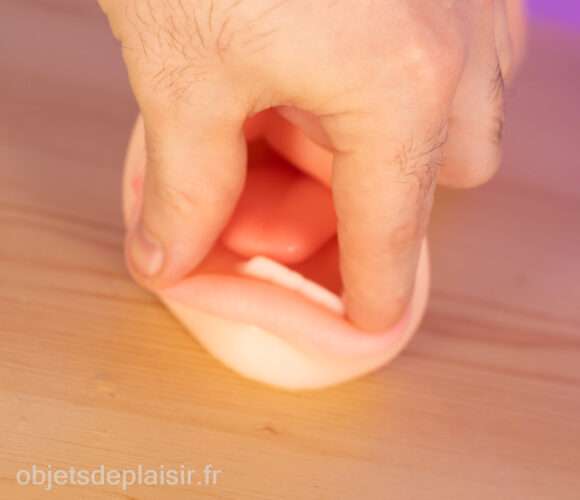 Utilisation of the Ondo! Nupu masturbator
I'm not going to explain to you how a masturbator works. You insert your penis into it, and well, you masturbate with it.
 Even though I used it on a real penis (mine), I used the RealCock 2 DTF as a model to pose with Mrs Ondo! Nupu on the pictures.
Blow job side: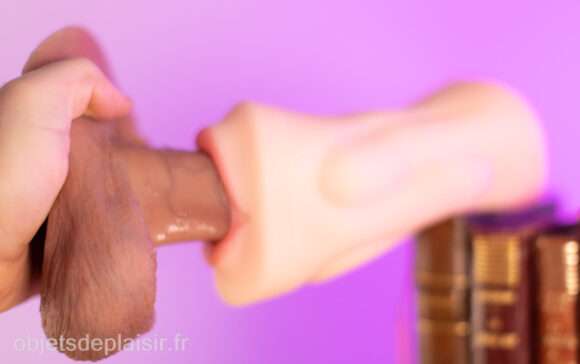 The hole of the masturbator, initially smaller than the penis (or here, the dido), streches when it enters, and the shape of the sex toy becomes distorted.
Vaginal penetration side: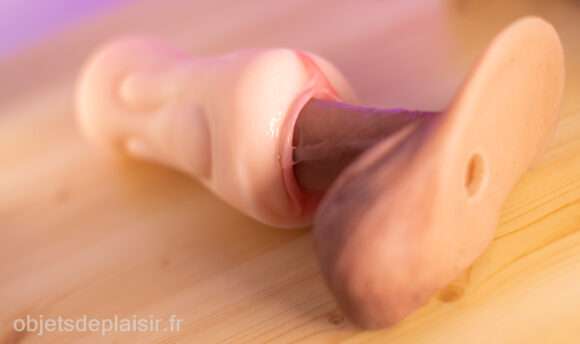 The texture of the sex toy is very soft, and it has no external casing. Thus the hand sets the pace more than the moves of the sex toy. There is more control on the pressure on the penis than with a sex toy such as the Tenga Flip Hole or one of the Fleshlights, for example. I, for one, find this more enjoyable and easier to handle.
And after use, probably because of the zigzag pattern of the internal texture of the sex toy, there's plenty of time to wash before anyting drips from the other side. No practical issue to mention here.
Upkeep of the sex toy
As for other masturbators made from similar materials (namely, most of them), to clean the Ondo! Nupu masturbator, some soap and water are enough. Its double hole makes the washing much easier, because one can let the tap water run through.
MotsuToys sent us their sex toys cleaning gel Kyo, and some masturbator cleaning sponges. The concept is simple, but well-thought. A small cylindric sponge, attached on top of a plastic rod, allows cleaning the inside of the masturbator by rubbing it. Not cotton buds but "sponge buds", in a way ? For the Ondo! Nupu, tey are not necessary, but they may turn out very convenient to clean a Fleshlight, for example. Actually, the "Ondo! Nupu"can be wased quite easily witout anyting special, not even these little sponges.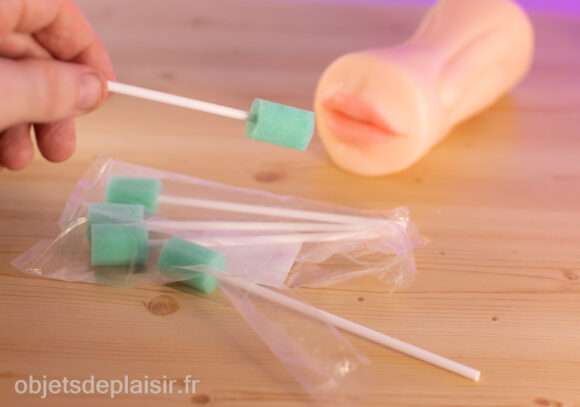 Les éponges de nettoyage Motsutoys
Le gel nettoyant Kyo chez Motsutoys
After a few uses, I noticed that the sex toy a been a little damaged. It will be far from lasting eternally. Yet, as a matter of longevity, it is already much better than the Tenga Cup, that are sold as disposable after one use, although in the same price range. You just ave to be aware of this if you have never owned any sex toy of this kind, such as te famous Tenga Eggs for example.
Conclusion on the Ondo! Nupu masturbator
Ups :
The feelings are there, and are always controlled by te hand of the user.
It lets you experiment two different textures, according to the side tat you penetrate, and it is rather well done.
Its price is very low : less than 15 euros. (At that price, some of its concurrents are disposable).
It is easy to clean.
The "realistic" look (it's a figure of speech, as it is still a faceless mouth and a bodiless vulva), is quite well done – anyhow, for such a small budget, it is better than what I was expecting.
Downs :
It seems likely to get damaged quite fast. this is not specific to the Ondo, but mais that doesn't mean it is any less a real defect.
Its look is kind of ("kind of"..  !) kitch. But well, there's no accounting for taste. And it goes with the upside, the "realistic" look.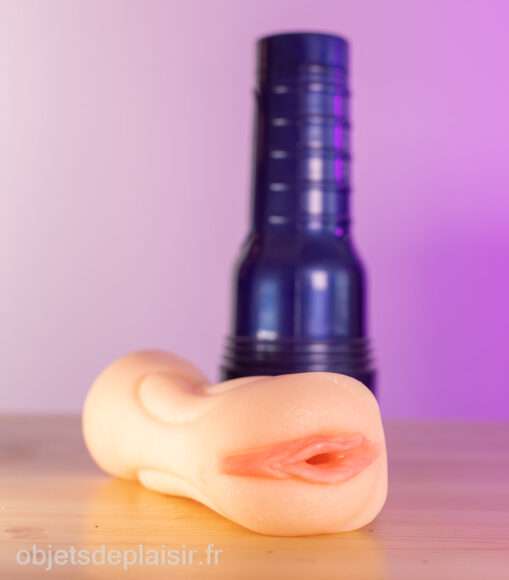 Pros
Provides a pleasurable feeling
Two different textures
Very cheap
Easy cleaning
Rather realistic look
Cons
Likely to get damaged quickly
Kitch looks
The "Ondo! Nupu" masturbator is a nice sex toy for men, really enjoyable for a budget of less than fifteen euros. I have been pleasantly surprised with it.
Thanks to MotsuToys for providing us with the Ondo! Nupu masturbator for this review