The Piky Geeky Sex Toys is a Pikachu butt plug! I was attracted by its cute look as soon as I saw it, and it is now in my possession. Let me tell you about it.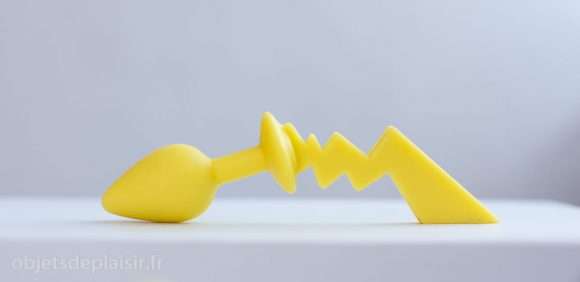 I have told you many times about Geeky Sex Toys. This Australian brand designs and makes erotic toys inspired by pop culture. Game of Thrones, Star Wars, Doctor Who, Avengers, Pokemon,, and many more, no franchise escapes their lewd imagination.
Packaging of the sex toy
There is no box, as the Piky is handcrafted. But a small yellow fabric storage case is provided. The package looks nice.
Look of the Piky : a Pikachu butt plug
The Piky represents Pikachu's tail. It is the same shade of yellow as the Pokemon, and its end, which protrudes from the anus, is shaped like a lightning bolt. It does look like the caudal appendage of the cutest electric Pokemon.
Its dimensions are quite small: no need to be an expert in XXL anal penetration to be able to wear it.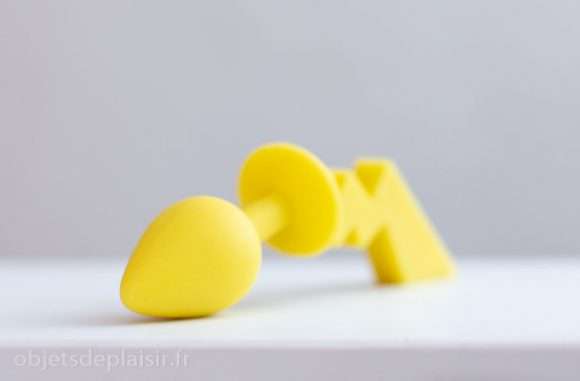 Indeed, its insertable part measures approximately 3 cm in diameter, for 7 cm in length: 4 cm for the bulb-shaped part and 3 cm for the thinner "rod" that will remain at the entrance of the anus.
Texture and materials
The Piky is made of pure silicone, a body-safe material, non-porous, and odorless. Its surface is smooth, and it is soft and flexible.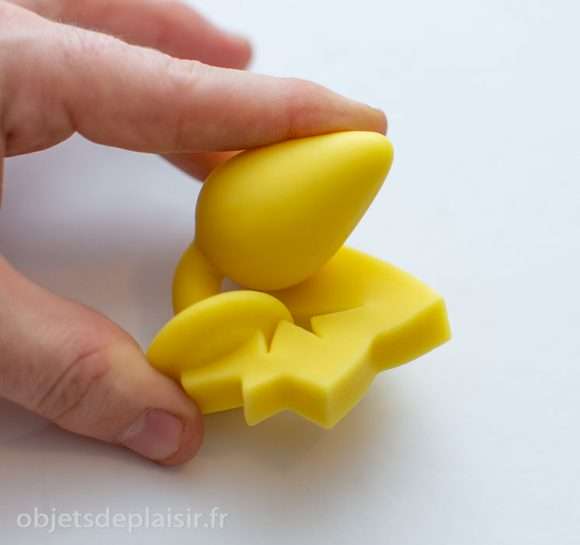 Why wear a Pikachu butt plug?
If you are asking yourself this question, this sex toy is probably not for you.
To want to insert the Piky into one's ass, one can be a huge fan of cosplay and fantasize about dressing up as Pikachu during sex. It could be a nice occasion for hot role-playing games with a Pokemon trainer who's trying to add them to their pokeball-harem.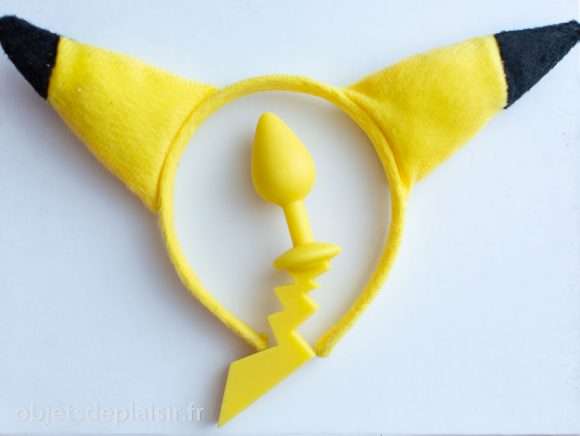 Or, one can quite simply find this funny. The "sex + fun stuff" combo usually turns out to be a good recipe. After all, sex should be playful, there is no good reason to take it too seriously.
Using the Piky Geeky Sex Toys
You don't need a manual to understand where the Piky goes.
As you have probably guessed, with its lightning-shaped tail protruding from the ass, the Piky is not the kind of butt plug that can be worn discreetly under clothing. But for games for two (or more) in the bedroom, it is a funny accessory, and it is not bulky.
This little butt plug is very nice. It is quite comfortable, its very thin rod at the entrance to the anus and its wider base allows wearing it without feeling any discomfort. It stays in place while its wearer moves, and doesn't slip away nor inside.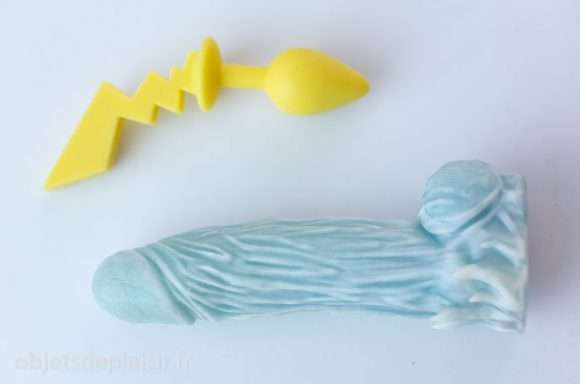 The bulbous part applies pressure on the G-spot (or the P-spot, if you have male genitals) from the inside.
Worn by someone with a vagina, the Piky also provides an additional stimulation during vaginal penetration. Indeed, the wall between the vagina and the anus is thin, and the presence of the plug in the anus reduces the space available for the penis, providing more sensations to both partners.
And how does it look? Do you look like Pikachu when you wear it? Well, I'll let judge for yourselves. So here's a pic of my posterior, proudly sporting the Piky Geeky Sex Toys: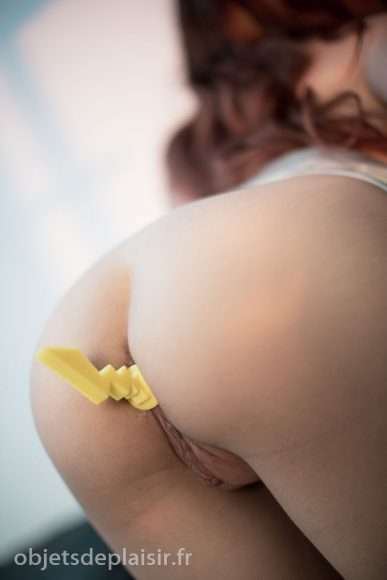 Conclusion on the Piky Geeky Sex Toys
Pros:
It's a Pikachu butt plug! This is, in itself, amazing.
Overall, the Piky is well designed: a body-safe material, an ergonomic shape, and no noticeable defects.
Its size is quite small, which allows it – no pun intended – to target a fairly large audience. Il suits beginners at anal sex as well as more experienced people who wish to acquire an original sex toy.
Cons:
Its size is quite small, and it clearly targets a geeky audience: it will not suit everyone.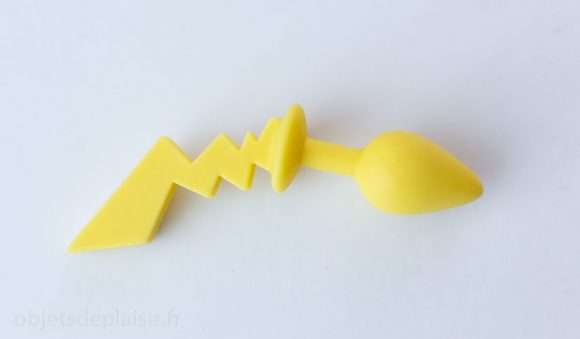 Pros
It's a Pikachu butt plug!
It stays in place and provides pleasant stimulation
It's silicone
Small size
The Piky Geeky Sex Toys is a very cute butt plug, nice to use, well-thought out, and with an unusual look.
And on top of that, it is not very expensive: 50 dollars, or about 45 euros, for a great geeky and original sex toy.
Thanks to Geeky Sex Toys for providing us with the Piky for this review