There is a new sex toy that never leaves my bed side: the We Vibe Wand, a very powerful app-controlled vibrator.
The first things that comes to mind when seeing the name "We Vibe" are those famous U shaped couple sex toys that are meant to be used during penetration in order to stimulate both partners.  The last one to date is the Chorus.
But if the brand stays in the app-controlled domain, it recently took the initiative to expand its product range with, among others, the Bloom, app controlled vibrating jiggle balls, and the Moxie, a vibrator for panty. But the real innovation here is with the We Vibe Wand.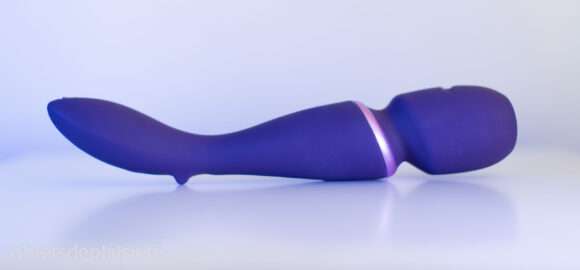 An app controlled vibrator wand ? But why ? When you're having a sex toy in the hand, what's a strange idea that is to wish to control it with a smartphone, while the controls are already under your fingers ! I confess that I never really graped on the concept, except maybe if one likes to play with frustration and teasing in a BDSM setting. But I'm more of the impatient side when it comes to orgasms. No way I let someone stop me in off in the middle !
Yet, the We Vibe Wand was a really great discovery for me !
Unboxing an packaging
The packaging, a nice blue cardboard box, quite thick, is somewhat classy. It is, however, bulky, and no storage accessory is provided. This nice packaging will end up thrown away and the sex toy will be unprotected.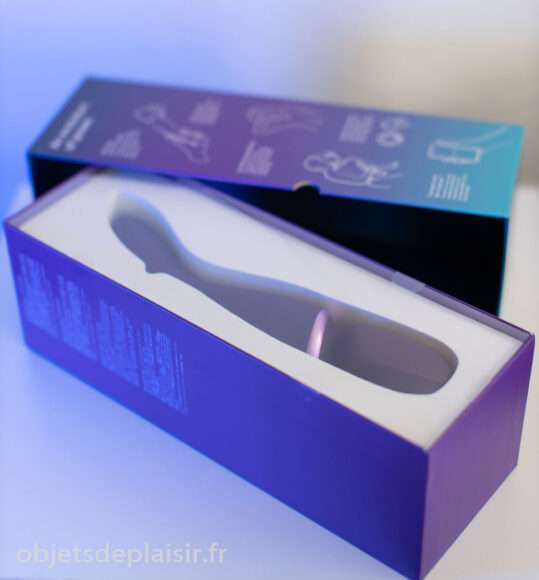 We Vibe Wand's Look
Look wise, nothing to say. It is plain purple, a nice purple, with a metalized purple edging between the handle and the head. The We Vibe Wand is a good looking vibrator wand, with a soft silky touch and perfect build quality. We have to admit, a wand vibrator is often quite ugly, with a few exceptions. And here is one such exception, along with the Smart Wand by Lelo.
However, the thing is quite large. If you were looking for a small sex toy to put in your handbag, this is not a good choice.
When Alexandra, from the online shop "Passage du desir" handed it to me, I did not account for that size, and I left by foot, from the city center, with a huge sex toy box under the arm. Fortunately, nobody noticed anything !  Well, it's not like it was a huge wee-wee colored phallic dildo either.. If you don't already know what it is, you probably won't suspect anything.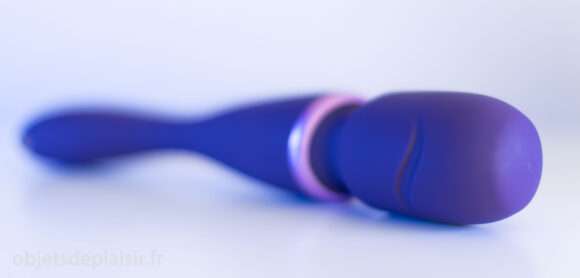 If the handle shape remind me of some G-spot specialized sex toys, like the Mona by Lelo for instance, this is only a coincidence. No, it is not a reversible sex toy, and the handle is not intended to be inserted anywhere.
Well, you can always try if you want, but it's not designed for that. This side of the toy does not vibrate, and have two small metal connectors for charging.
Two strange accessories, colored in a turquoise blue, are bundled with the machine. There is some sort of soft silicon clamp to transform the sex toy into a vibrating male masturbator, and a weird small collar that you put on the wand head in order to have different types of sensations on the clitoris.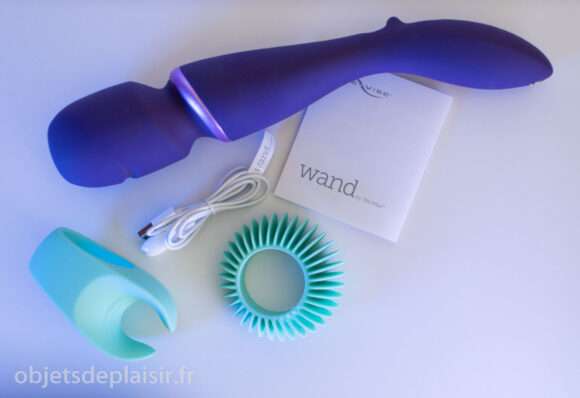 But we'll inspect all that further later in this review.
Materials and Feel
The We Vibe Wand is covered by a thin layer of very soft silicone. A material that is body safe and compatible with all water based lubricants.
The neck of the wand is flexible. Combined with the curved handle, it allows to use the sex toy from any angle, without ending up with a wrist cramp.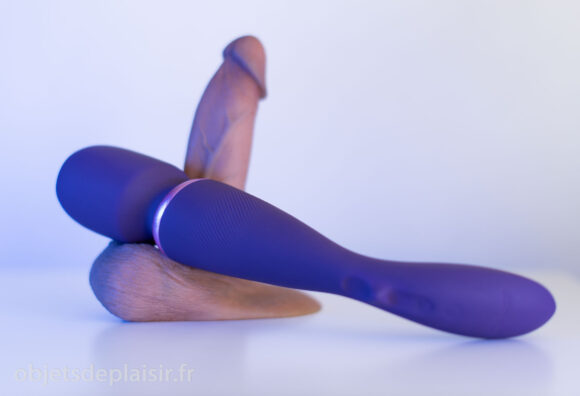 Now, the wand however does weight quite a bit, but that's nothing compared to the Doxy Die Cast with its metal handle for instance.
That being said, starting to do some sport again recently, I had the occasion to try the thing with really stiff arms, I realized that it's perfectly usable riding the wand hands-free !
Battery Life and Charging the We Vibe Wand
The We Vibe wand is rechargeable. Provided is a charging USB cable that have two magnetic connectors on one end that stick to the two connectors on the wand. Battery seems rather good and does not empty too quickly.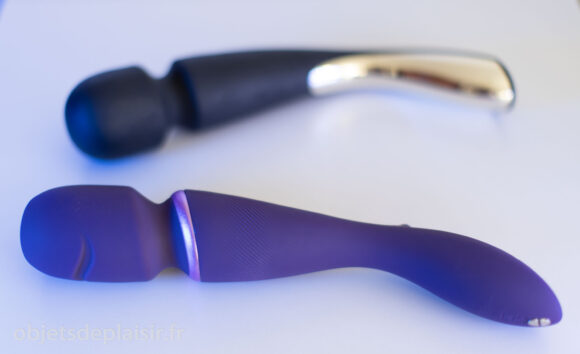 The wand is waterproof. For the price, it is expected. It is nonetheless very nice to be able to use it in the shower, and not having to worry when cleaning it.
Controlling the We Vibe Wand without the App
Of course, it is entirely possible to control the We Vibe Wand without keeping a smartphone at hand.
The controls are easy and intuitives: A button to power on and power off, a button to select vibrating mode, and a small lever to adjust the vibration intensity.  The lever is under the same smooth silicone as the rest of the toy, the touch is very nice.
By default, a "silence" setting, named "Smart Silence" is on. The toy only start to vibrate when it detect a pressure against its head, and stops when the pressure stops.
To disable this setting ( or re-enable it later ), no choice: You have to do it trough the smartphone app. If the simplicity of the controls is nice, the most important controls being available without any connection, that is still unfortunate that the smartphone app is mandatory to change this setting.
With the app
The app, WeConnect, is shared with all We Vibe toys. It is available  for Android as well as iPhone. When it is on, taking screenshots becomes impossible. So I'll just have to describe it to you.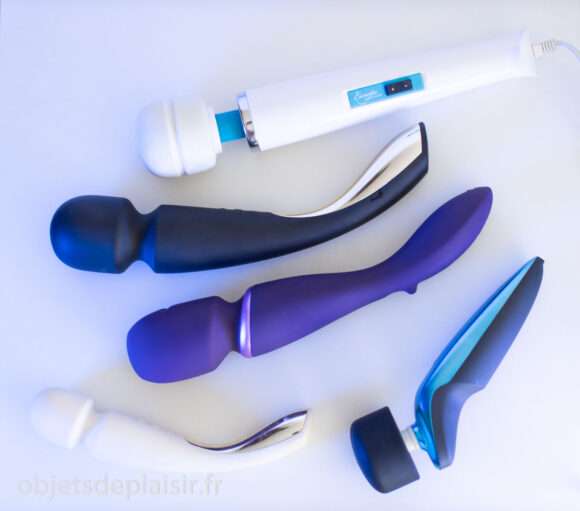 Connection with the sex toy is easy, no need to tinker. You just have to push the wand power button for a few seconds so it goes into pairing mode. Then, you toggle on bluetooth on the smartphone, start the app, and the toy is automatically detected.
The app allows you to access additional features. Indeed, it is possible there to adjust the toy vibrations in real-time, by moving a graph with your finger, or, you can record vibration patterns. You can also give control to a remote person. Obviously, the smartphone have to be online to do that.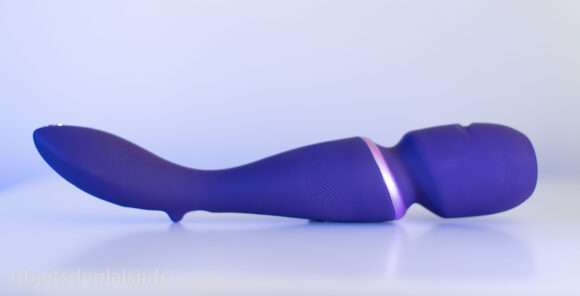 But realistically, the only setting in the app that was useful to me was the possibility to disable the "Smart Silence" feature.
Have I been convinced by the "smart", "app controled" features of the Toy ? I messed around a bit with them. This was fun. But to be honest, this is far from being the main way I'll use the sex toy. And even tho it's not that important, I would prefer being able to disable or enable that silent mode without having to find were I left that damn smartphone, probably hidden under the bed !
Nevertheless, if the app control stuff seem rather unnecessary to me, I am totally ready to forgive the We Vibe Wand its hipster attitude. Indeed, the machine doesn't only show off, it also is wicked powerful.
Usage and Effectiveness
The We Vibe wand is, by far, the most powerful wireless vibrator that I ever tried !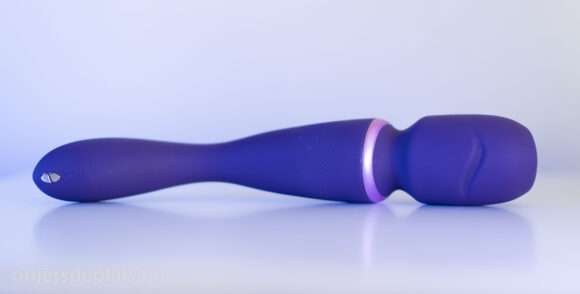 Now, it doesn't go up to the "blender" level  of the Doxy Die Cast, but it is seriously powerful ! My old  Fairy Lithium can go home, and cry about its heroic youth along with the Lelo Smart Wand ( that being said, version 2 just released, maybe it will be able to level up with my new favorite wireless wand… who knows…).
And those are roaring vibrations that propagate very deeply. All of that, with a silky smooth, squashy head that is careful with your clitoris. The ideal combo for quasi-unlimited orgasms.
In short: when it comes to Power and Efficacy, hats off ! The We Vibe Wand isn't just an high-tech beauty, It certainly doesn't lack power.
We Vibe Wand Accessories
As I mentioned already, two accessories are bundled with the wand. They are in elastic silicon, and are meant to be put on the wand head. To do this, you'll have to first disable the "Smart Silence" feature with through the app.Otherwise, the toy won't detect your genitals, and will stay off.
The first one is a "weiner clamp", that transform the wand into some sort of Man Wand or Fun Factory Manta. To try the accessory, Lui, who isn't usually a big fan of male masturbators accepted to be my guinea pig.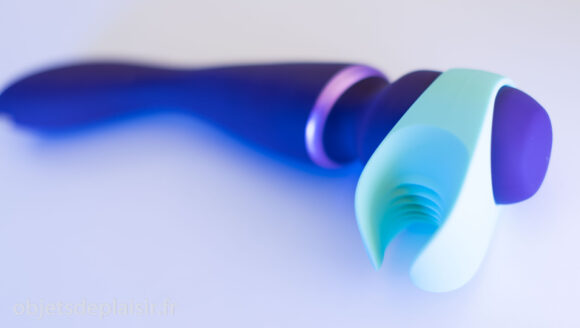 Result : This "clamp", fortunatly soft, is a bit too small, and only one side of the penis is stimulated. This system is far from perfect and is less effective than other toys specially made for that, but that is still nice that the wand give us this option.
You could also very well use the wand directly onto the penis, if you like this type of stimulation.
The second accessory, that I would call a "vibrator collar" tries to transform the We Vibe Wand in some kind of Sqweel. Well, not exactly, because there is no rotation, it only vibrate. Instead of a huge vibrating head, it's many small silicon tabs that wriggles against your clitoris.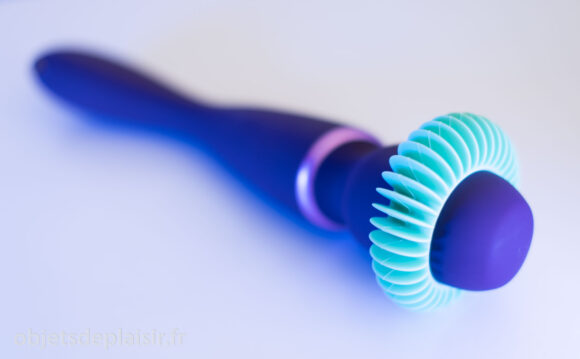 Result: So, it's better than the Sqweel, but that's not saying much.  However, this accessory does not give you intense orgasms after orgasms, that's more of a foreplay thing, a softer stimulation, that you can use to gradually increase the excitation before going full blow with the wand directly.
It's somewhat the same for the male accessory: It's not transcending, but this is nice that We Vibe thought to propose that other possibility, that other sex toys do not have.
Noise Level of the We Vibe Wand
We Vibe does not provide any official figure for noise levels. At a distance of about 15cm, we measured 67 decibels. Tho, usually, noise level is measured at about 1 meter, so you shouldn't compare this figure to official figures from other brands.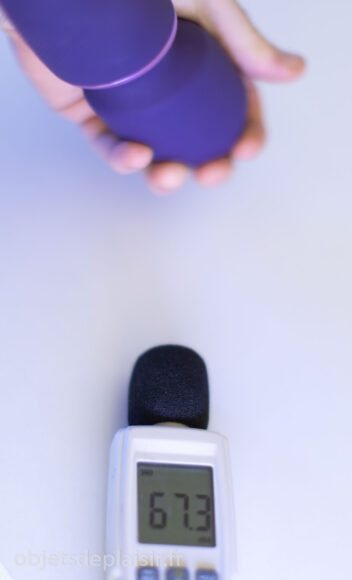 To compare, we will try to measure the noise level of the Smart Wand 2 by Lelo using the same methodology when we'll review it.
Anyway, the "Smart Silence" feature makes the noise of the Wand much less annoying compared to other vibrators, because the noise stops as soon as the toy is not in contact with my skin. As long as I am overwhelmed by sensations, I don't really care about the noise, and, immediately after the orgasm, or if I take a break to find some lubricant, it is back to being silent.
In Conclusion
The good:
It is a good looking wand vibrator, with a nice soft touch, wireless, waterproof, with an overall really good build quality.
Vibrations are very powerful ! That makes it the most powerful wireless vibrator I ever encountered. ever.
The fact that it is app controlled, and that accessories are bundled are nice little bonuses that tend to make it more fun to use, alone or with a partner.
The bad:
the price, almost 190 euros. Not everyone can invest that much into a sex toy.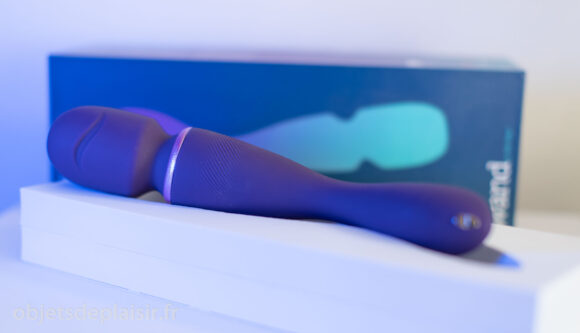 Pros
Very good looking wand well built
Really powerful vibrations
Fun and app controlled toy
The We Vibe Wand is as of now, without any hesitation, my new favorite wireless wand vibrator, and by far.
However, if the shop, Passage du Desir, had not sent it to me for this review, would I have buyed it ? Well, maybe, it really is a nice product.. but the price would have made me hesitate.
Thanks to Passage du Désir for providing us with the We Vibe Wand for this review