Stronic Real is a phallic variation of the famous Fun Factory pulsators. A little thinner than the Eins, the Zwei and the Drei, it is shaped like a very stylized penis.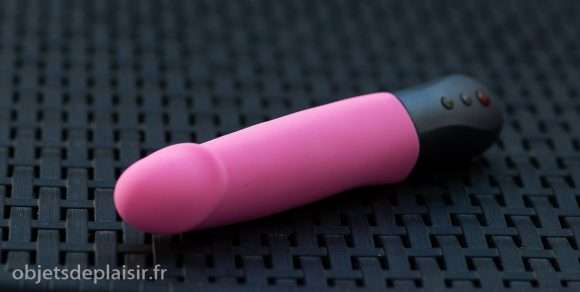 So far, I have been very excited about the Stronic, and especially the latest one, the Stronic G, focused on G-spot stimulation.
That's why, when I learned about the Stronic Real, a penis-shaped Stronic , I really wanted to try it.
Here is my opinion on Stronic Real from Fun Factory.
Packaging
Nothing new for the packaging, Fun Factory sticks to their habits. The box is made of cardboard, adorned with the sex toy visuals, not unpleasant to look at, but disposable.
No cover is provided for storage.
The sex toy
Appearance of Stronic Real
The insertable part of the Stronic Real has a very stylized phallic shape. It has a head, similar in shape to that of a penis, but realism stops there. It's smooth, straight, very symmetrical, no vein, no folds, in short, if it's a penis, it's Barbapapa's.
However, this still looks "penis-shaped, but without willing to match with perfection a real penis" is rather nice. One may appreciate a phallic shape without the need of it to be an exact clone up to the individual hair. And visually, it's not ugly.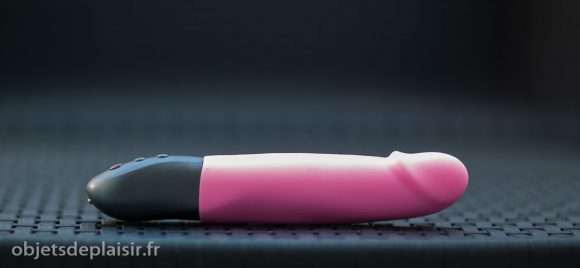 The model we received is pink, but the Stronic Real also exists in other colors.
Its handle portion, black, with three buttons, is identical to that of other Stronic.
Texture and materials
The insertable portion of Stronic Real is made of medical grade silicone. This material is body-safe, non-porous, and odorless.
Battery life and Charging
On this front, all recent Fun Factory sex toys use the same system, and Stronic Real is no exception.
It is battery powered, its charging cable, the Click & Charge, has a magnetic end, which adheres to two contacts on the handle. On the other side, it is a traditional USB tip which can be connected to a computer or to the transformer of your smartphone. Indeed, no transformer is provided.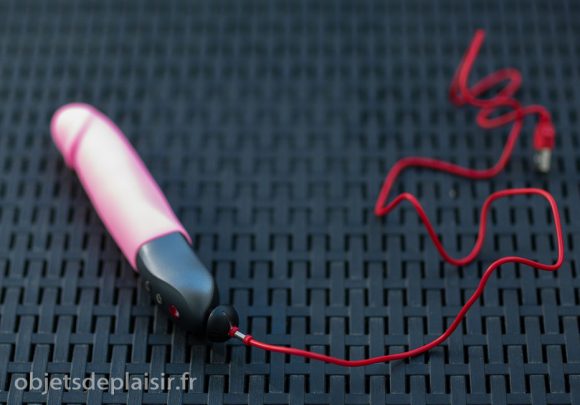 Use
Modes and Controls
The Stronic Real controls consist of three buttons. A "Fun" button is used to turn the sex toy on and off, while two "+" and "-" keys are used to navigate between the modes. These do not loop: after the last one, the sex toy does not return to the first one.
The Stronic Real has ten modes: seven of regular pulsations at different speeds, and three more fanciful rhythms. Unlike traditional vibrator, where fanciful vibration modes are usually more futile and gadget than really useful, on the Stronic they are interesting.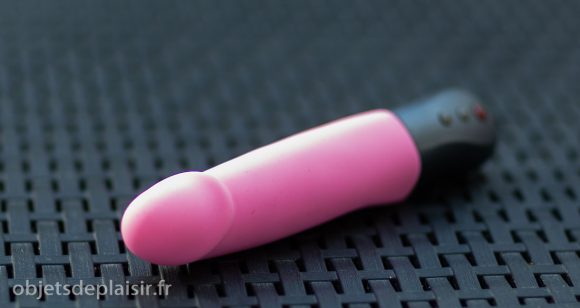 Effectiveness of Stronic Real
The shape of the Stronic Real is in itself a little less stimulating than that of the Stronic G. Indeed, the G-Spot is less stimulated.
But the good point for this shape is that, being straighter, it allows for a movement ample enough. And this, even hand-free. Its jerky back and forth, combined with penis shape, evoke a more phallic penetration.
Then again, it would be quite a stretch to compare it to a human penis … Well, the pace is really quick indeed. But the sensations are interesting, and if combined with clitoral stimulation like a Magic Wand type vibrator, orgasm is guaranteed, quickly and without effort.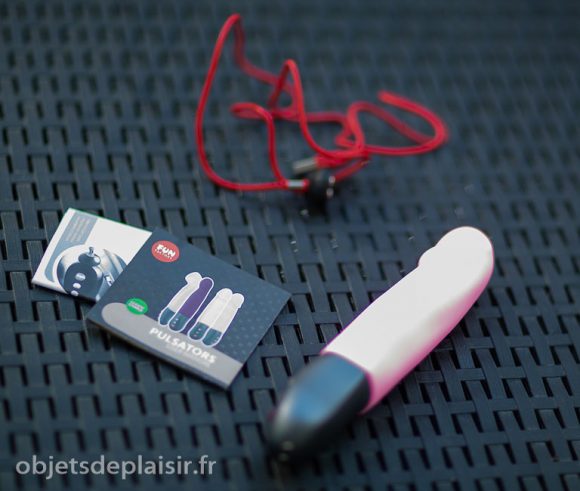 The Verdict
The pros:
The Stronic Real is realistic, but just enough. The sensations have similarities with a real penis penetration, without copying that exactly. And it looks phallic, but without veins, folds, or testicles.
It's usable even hand-free !
Premium build quality: body safe and durable material, good battery life and good overall feel.
The Cons:
It is less effective than the Stronic G.
Still no accessories provided. As usual with Fun Factory, there's not even a transformer for the usb cable or a cover for storage.
Pros
Realistic and moderately phallic
Effective even hand-free
Very good quality
Cons
Less effective than the Stronic G
No cover provided