On a rainy weekend, we decided to give HuniePop a try, a weird PC game that combines dating simulation and Candy Crush-style puzzles, all with a touch of hentai soft porn.
As strange as the description may seem, I did actually enjoy the game. And that's why I wanted to tell you about it.
HuniePop: The Scenario
You don't have much success with women. Lucky for you, Kyu, a fairy whose dating is the specialty, decides to give you a hand, giving you advice to make you a Don Juan.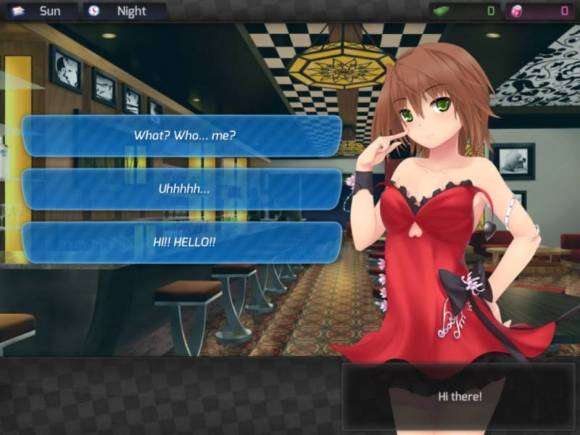 Note that you play either a straight man or a lesbian. There are no guys to flirt with, and that's a shame.
She gives you a device, the HuniBee, which will help you in your mission, allowing you, among other things, to find chicks that you'll be able to flirt with.

HuniePop gameplay
You visit young ladies, in various places in the city where your character lives. Your goal: to seduce them.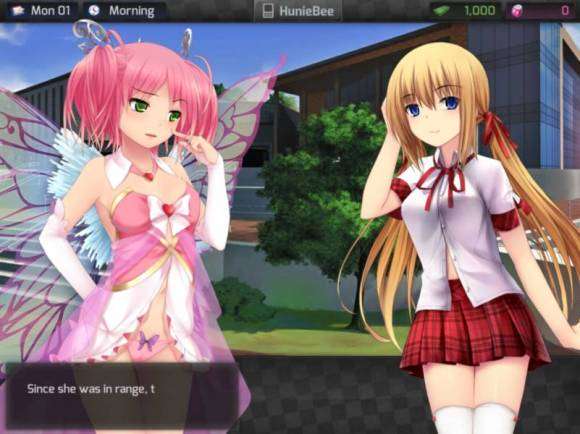 For each girl, the game goes in two phases:
Trying to seduce

The romantic date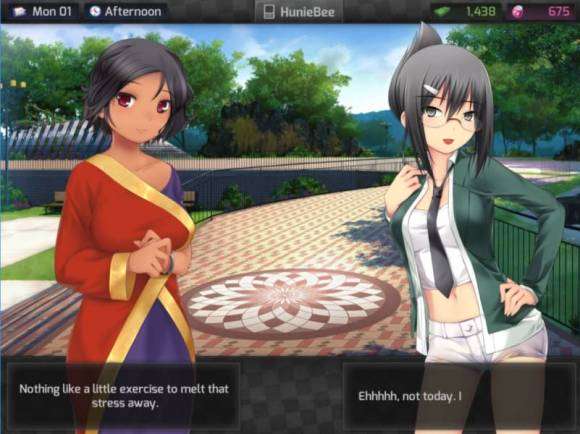 Seducing in HoniePop
During the dating phase, you can chat with the girl, or give her gifts.
This allows you to earn Hunies, one of the two "currencies" in the game, which you will then spend to improve your dating skills.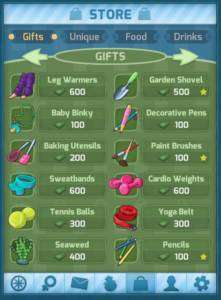 When it comes to gifts, each girl has her preferences, as well as some kind of a "wishlist" to collect.
During the dialogue, to get the highest score possible, you'll have to be smart about your choice of words.

There's three types of dialogues:
You ask questions to

learn more

about the person you're talking to. For each character, twelve characteristics are to be discovered: her last name, her job, some of her preferences … as well as her cup size. If you ask twice for something that you're already supposed to know, you don't earn any points, because it's impolite.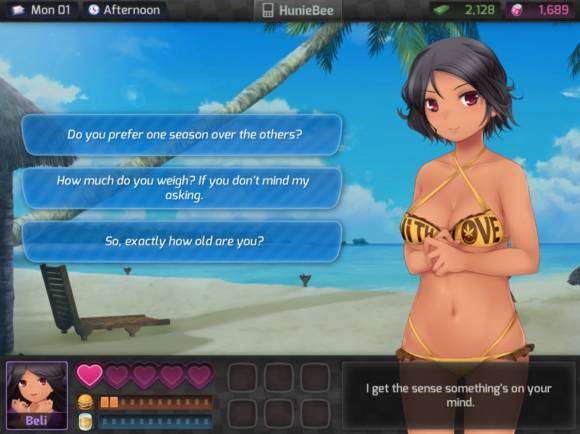 The girl asks you for details about

your personality, your behaviour and your tastes

. It's up to you to guess, depending on her personality, which answer will satisfy her.

She also

asks you about herself

, to check that you have listened. A right answer will earn you Hunies.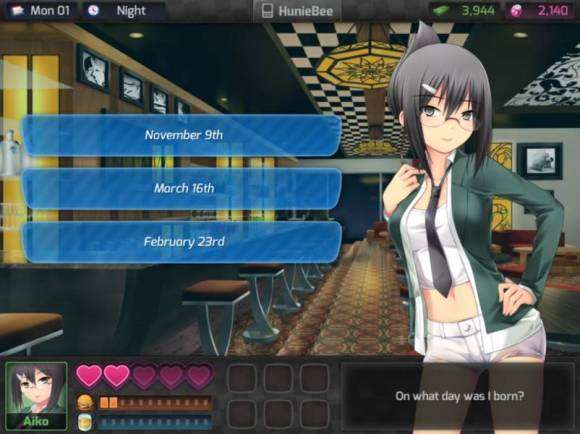 You can then ask her on a date.
Dating
The date consists of a puzzle game (a bit like Candy Crush) in order to seduce her.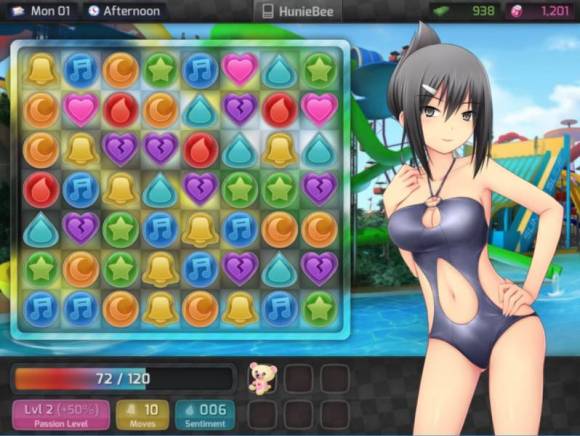 I'm saying "a bit like" Candy Crush because it's the famous game HuniePop is being compared to every time it's mentioned. But I've only played Candy Crush once in my life, yesterday, and just a few minutes, only to see what the two games have in common.
Well, the rules are not identical, but it's indeed a question of aligning colored chips. Like in many other games, by the way.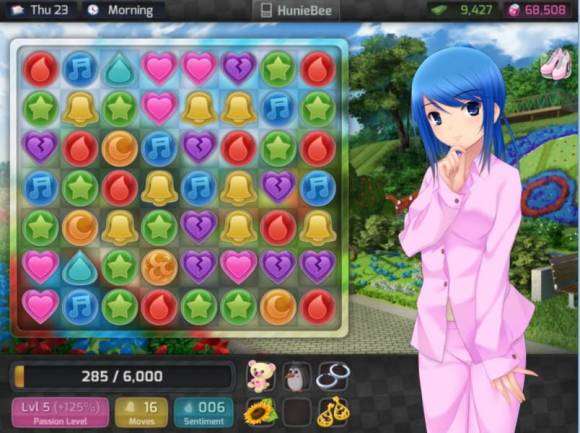 The game has some subtlety. Among other things, each token color represents a quality, and each chick has her favorite quality, which will get you the most points, and is somewhat indifferent to another quality, which will therefore be worth less points.
There are also tokens that have specific properties, and tokens to avoid.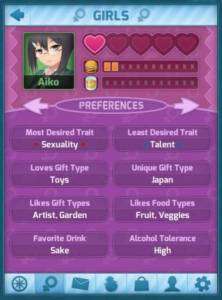 It's also possible to give them presents (acquired over the course of the game), each gift having  a unique skill that will influence the puzzle battle.
At the end of the fourth successful meeting, if it was night time, your opponent suggests that you go to your room to get down to business.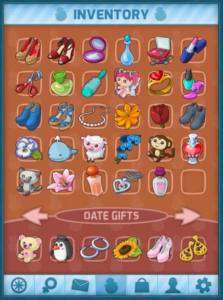 The Sex in HuniePop
Ah, sex, finally! Well, I'm not here to play scrabble !
So, it's not scrabble, but sorry to disappoint you if you were hoping to work on your kamasutra with this game, sex is also a puzzle, quite similar to dating.
With a few differences:
You

cannot lose

, but you have to play

as fast as possible

.

Seeing you

lining up chips

seems to have quite the effect on your partner. The faster you chain together the combos, the more she screams with pleasure and loses her clothes.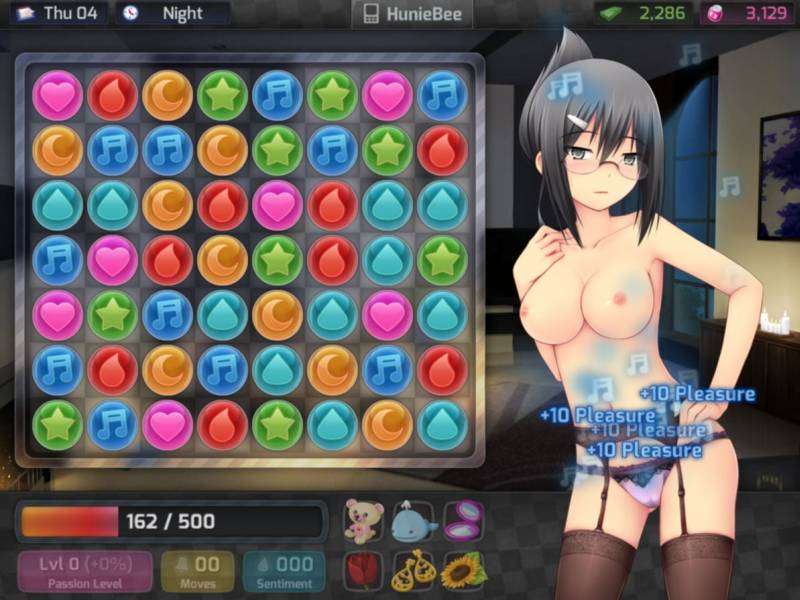 Your goal being to line up enough chips, fast enough, so that she finds herself completely naked and has an orgasm.
If the sentence "oh yes, match those tokens for me!" turns you on, is it possible to play with one hand, the other comfortably placed in your underpants? Well, let's say you're going to have to be multitasking, because you still need a little bit of focus to play fast enough.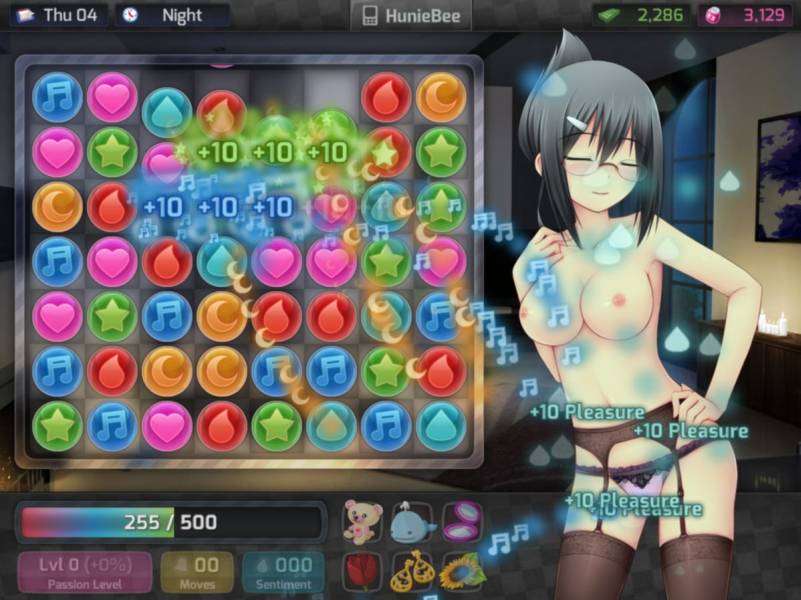 Is HuniePop macho?
Insofar as you can only flirt with girls – and even then, they're stereotypical "manga hottie", skinny with big breasts, who turn out to be a bit dumb and anoying ( "Ooh, You remembered my cup size! So cute, you really care about me! ") … Well, yes, obviously, it is macho.
That being said, this is certainly no excuse, but in this genre of games, there is worse, way worse. Here, at least, the consent of the girls is unequivocal: It's always up to them to ask if you want to get some action together.
It's not too crude, and some girls remind you every now and then that no, just because you just gave them a gift they like doesn't mean they're going to feel pressured to sleep with you.
Having an equivalent number of male characters to flirt with (or even, transgender or intergender characters), and more diversity in body types, would be much nicer.
The nice little things
As for me, I enjoyed the HuniePop game, especially thanks to lots of well-done little things, which make you want to continue the game.
The Progression
First, there is a fairly well balanced progression. With each successful date, the next one becomes more difficult.
But the hero's "traits" can also be improved over time, and you gradually acquire new gifts to use during dates to trigger specific skills, which allows you to develop a more complex strategy to win.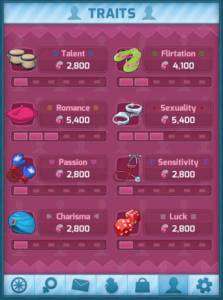 Collectibles
The game features lots of small collectibles, this adds a bunch of secondary objectives.
Learning new characteristics of a character, completing certain items on their wishlist, or meeting them in a new location unlocks new outfits and hairstyles, and you can have fun "makeover" the girls.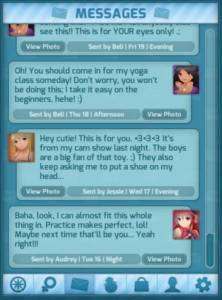 Over the course of the (successful) games, you also receive messages from them with sexy selfies or nudes, which I started to enjoy collecting.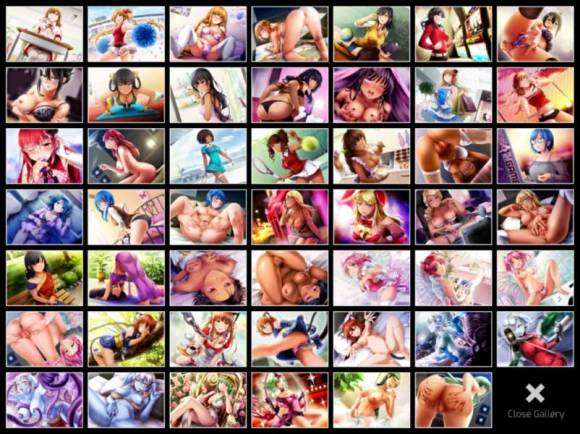 Four hidden characters can be unlocked:
Kyu

the fairy, who expresses her desire to flirt with you after you manage to have sex for the first time,

Momo

, a catwoman with a strong taste for goldfish,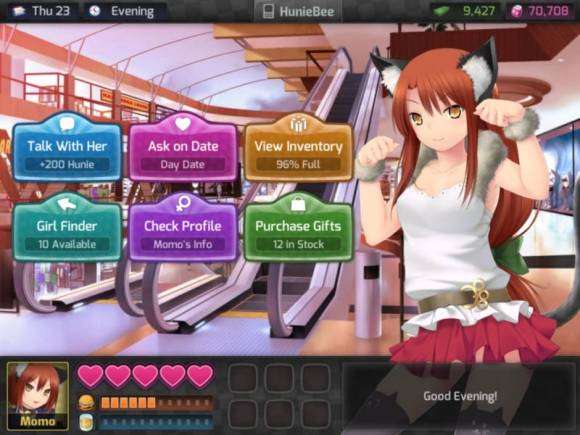 Celeste

, an alien,

And finally,

Venus

, goddess of love and ultimate boss of the game.
HuniePop: in closing
In short, a very addicting and fun little game, with a touch of eroticism. When will a version also offer men among the characters to seduce?