The Howard by Petit Vice is a silicone dildo shaped like the lewd tentacle of a giant octopus from the depths.
Its French maker, stands out with its heroic fantasy-inspired sex toys. I had long dreamed of owning a tentacle dildo. Ultimate hentai fantasy, the tentacles have a spooky and phantasmagorical dimension. But while it's clearly a fantasy object, this octopus sex toy also has an atypical shape, and a multitude of small suction cups (they'r called suckers) on its surface. This further piqued my curiosity.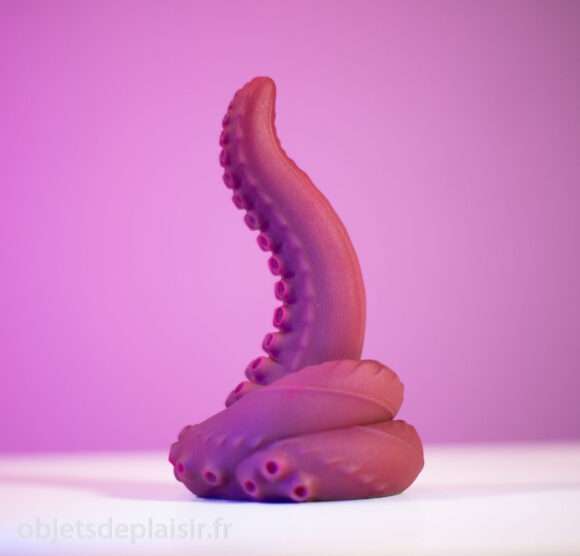 Here is our review of the Petit Vice Howard.
Unboxing and Packaging
Although the production of Petit Vice sex toys is artisanal, their creators did not neglect the presentation!
With each dildo is provided a presentation card, and a nice soft velvet case.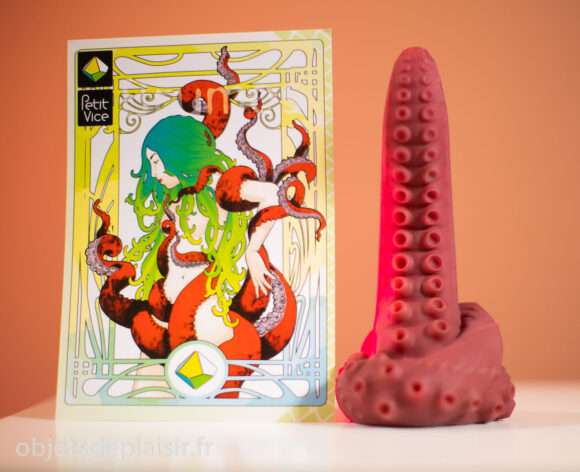 Petit Vice Howard Tentacle Dildo: The Look
The Howard copy that we received is a beautiful dark red tentacle. But the color of the dildo is actually customizable. At the moment, nineteen colours are available.
The sex toy is full of details, and the finishes are perfect. On one side of the tentacle are two rows of tiny, symmetrical suction cups, suckers, which continue around the base.
The tip is curved, almost like a question mark. The tentacle appears to be coiled up on itself at its base, which is wide and heavy. This gives it great stability: indeed, this beautiful sea monster appendage stands upright.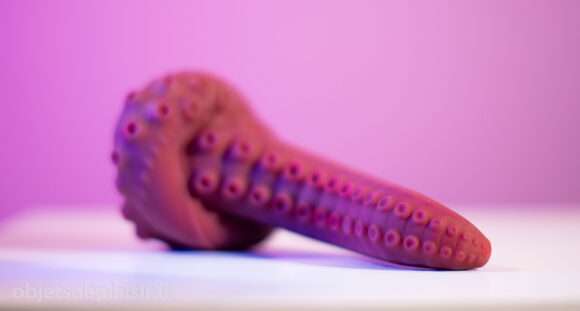 Under the base, you can notice the Petit Vice logo, printed several times, as a discreet watermark.
Texture and materials
Like all the brand's other sex toys, the Petit Vice Howard dildo is made of silicone. The texture is also customizable: you can choose between hard, medium or soft. There is on their website a guide to help you decide what's best for you. The hardness of the model we received is medium which was perfectly fine for me.
A softer texture would probably be nice too, if you want to maximize the "slimy tentacle" effect. Harder, on the other hand, might be a little too firm I think.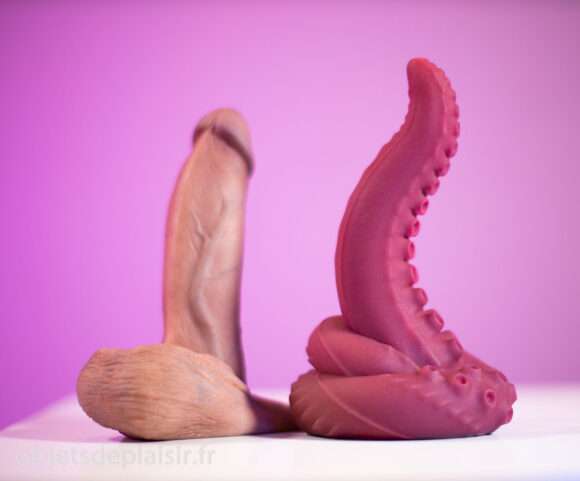 Human or octopus? Petit Vice's Howard and RealCock 2 DTF dildos.
And no matter what texture you choose, it's always medical grade silicone. So naturally, it is body safe, has no taste and is odorless.
Using Petit Vice's Howard Tentacle Dildo
First important thing, Howard stands upright. It is very stable, enough so that once placed on its base, it can be rode on without having to hold it in place.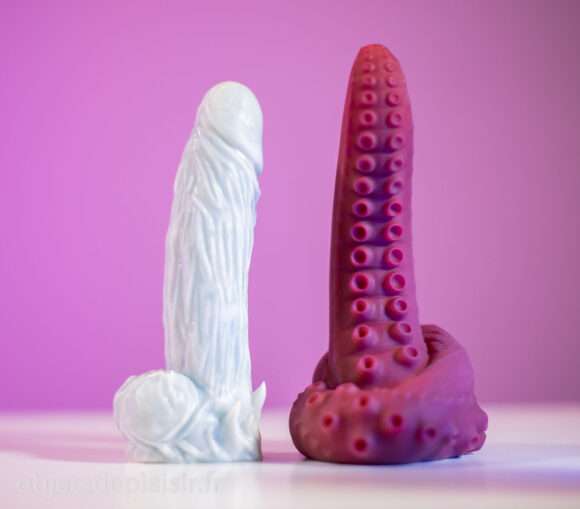 Howard from Petit Vice and Night Kink from Geeky Sex Toys.
Having a large amount of water-based lubricant on hand is important. Indeed, the contact with the small suction cups of the tentacle is surprising. There is a slight adhesion with each of these protuberances, and if the lubrication is not sufficient, the friction can become unpleasant. But when it slips enough, the feeling is just divine.
While the small suction cups pleasantly stimulate the walls of the vagina, the curved end of the dildo presses against the G-spot. The whole thing is tremendously effective.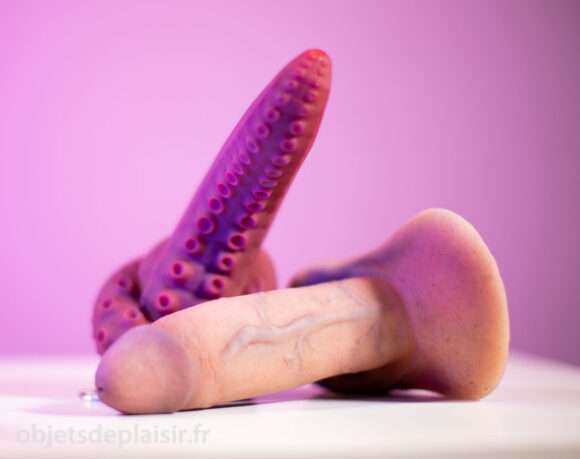 Howard tentacle dildo from Petit Vice: Conclusion
Howard, by nature, being a tentacle dildo, is very original. With his many small suckers, texture is surprising. And the shape allows for a very intense stimulation of the G-spot. Plus, I find it beautiful, and it's a craft original creation !
One would expect such an item to be super expensive, due to its rarity. However, if the price, ranging from 84 to 95 euros ( about ~76 to 86£ ) depending on the color you choose, is a little higher than that of an ordinary dildo, it's still quite accessible. If you are looking for an unusual sex toy and Howard tempts you, go for it, you will not regret it.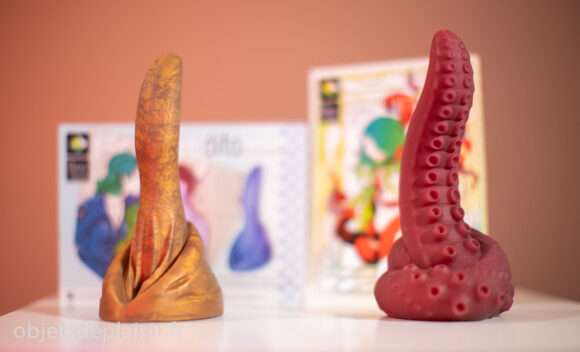 Howard along with Dito, another Petit Vice sex toy that I will tell you about soon.
Review score
Pros
Howard is beautiful, original, and very customizable.
Intense and unusual sensations and stimulation
craft made in France
A bit expensive but still quite sensible
Cons
I can't think about anything bad about it.
Thanks to Petit Vice for providing us with the gode Howard for this review