The Tantus Rumble promised to be a great sex toy. This wand vibrator, developed by a brand of dildos that we really like, is the result of an Indiegogo crowdfunding campaign.
Its slogan ? "A vibrator to please every body". So, the Rumble claims to adapt to all anatomies.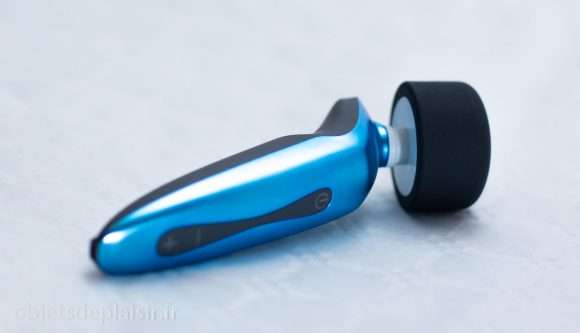 Tantus announces a lightweight, ergonomic, hygienic and powerful sex toy. Yet, promises are not enough. We had to check that.
Here's our review of the Tantus Rumble.
Packaging
The Tantus Rumble comes in a thick cardboard box, padded with foam.
Look: quite nice
The Tantus Rumble looks nice and modern. A slim black and navy blue grip, a thin and flexible neck, and a head shaped as a flat cylinder. It is quite small for a wand vibrator.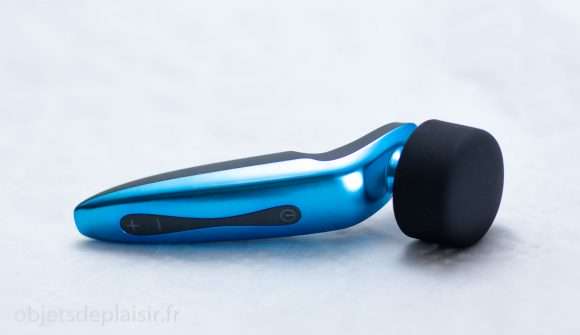 Texture and materials
The grip of the sextoy is made of rigid plastic, while a removable cap, made of pure silcone, covers his head. Its hood is flexible, but once it covers the head of the sextoy, the whole remains firm.
The joint between the head and the grip of the sextoy is very flexible, and can be oriented in all directions.
Power supply
The battery of the Tantus Rumble recharges with a micro-USB cable. That's a good thing : for once, no proprietary format!
On the down side, the battery doesn't stay charged for a long time. After recharging the battery to try the sex toy, I didn't use it for a week. When I tried to use it, its battery was empty.
Moreover, it is neither waterproof, nor splash-proof. For a quite recent rechargeable vibrator, that's lame.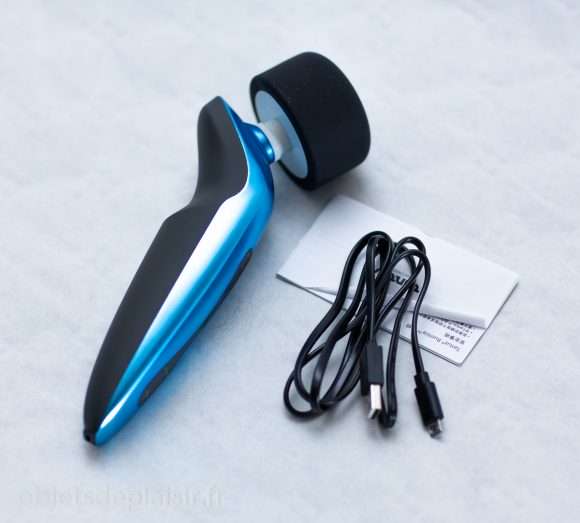 Commands
TheTantus Rumble has three buttons:
A round one, that turns the vibrator on and off.
Two buttons "+" and "-", to select the vibration mode.
The sex toy has seven vibration settings: three constant intensity levels, and four fantaisist ones. After the last setting, it goes back to the first one.
This arrangement is not the most optimal for a wand vibrator. Indeed, when I masturbate, I don't think a lot, and what usually I want when I press the commands, is to increase the power of the vibrations. Not switching to a vibration pattern where the stimulation is briefly interrupted at regular intervals.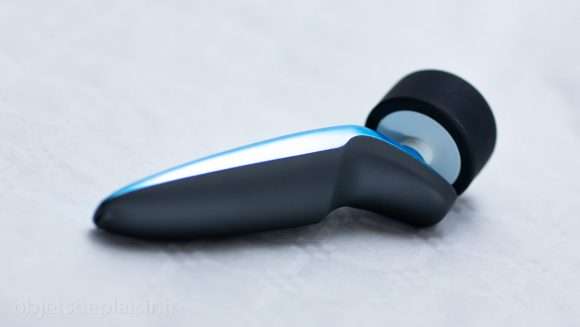 Ergonomy
The grip of the sex toy is slim, and comfortable to hold in one's hand, the commands are easy to find with the fingetips, and its wide, flat and flexible head reaches the clitoris with almost no effort, in any position. Moreover, the Tantus Rumble est really lightweight.
No wrist cramp: apart from the arrangement of the vibration modes, the ergonomy is good.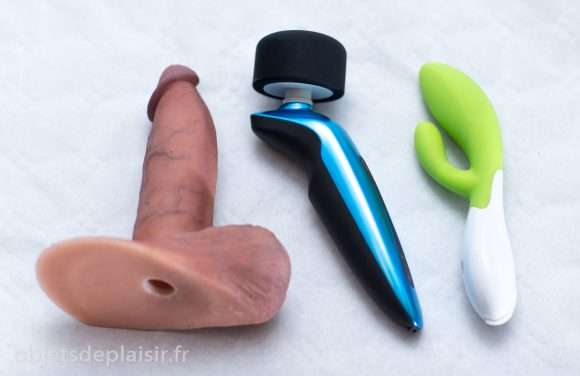 Efficiency of the Tantus Rumble
I was expecting the Tantus Rumble to become my clitoris's best friend. Well, I have been disappointed.
The sex toy is powerful enough to let me have an orgasm, but I was expecting more from it.
It is far from immédiate, it is not intense enough to leave me breathless, in short : to my taste, it is not powerful enough. Whenever I use it, I find myself wishing for stronger vibrations, without getting them.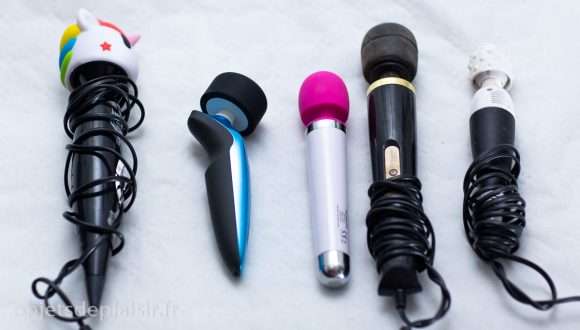 Conclusion about the Tantus Rumble
Ups:
Le Tantus Rumble looks good.
Its shape and light weight make it easy to handle.
Downs:
Its vibrations are not powerful enough.
It's not waterproof, and not even splash-proof.
Pros
Nice looking
Sa forme et son poids léger le rendent très maniable.
Cons
lack of power
Not waterproof at all ( not even splash resistant )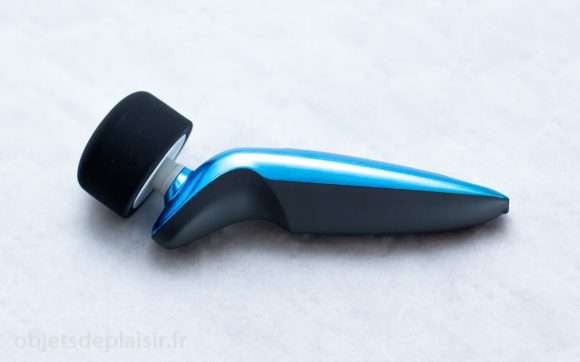 With its Rumble, Tantus made a good design: it is pretty, it is lightweight, its shape and the flexibility of its neck allow a comfortable use. But the brand neglected essential points: it isnot waterproof, and most of all, not powerful enough.
The result is a disappointing vibrator.
My opinion on this sex toy may be biased: if it was from an ordinary brand, I might have simply concluded "meh, this is a more or less acceptable wand vibrator". But from such a great brand as Tantus, I was expecting a much better sex toy.