In hentai, mutants are often fetishized. And in the real world, the same goes for mutant sex toys.
Indeed, their genetic abnormalities have generally had a beneficial, or at least, intriguing impact on their sexual attributes.
Mutant sex toys with duplicated organs
The tri-vulva
The tri-vulva, a mutant sex toy with three vaginas named Setsugetsuka, is a true work of concept art.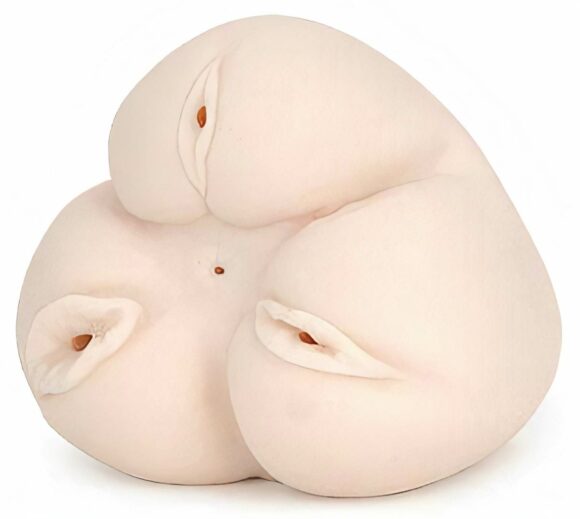 Or not. In any case, its name, supposed to mean "ephemeral moon flower", has a poetic side.
This Japanese cerberus-like masturbator represents the association of three vaginas, located in three different age groups, and a central anus. Could this be a metaphor to explain that everything always revolves around the ass?
The four vulva mutant masturbator
In a more floral register, the TSX Toys brand sells the Lotus Pussy, a pocket vagina that strangely reminds me of a sand rose.
Although having only one penetrable orifice, this masturbator is still equipped with four vulvae. At least four … I don't know if the extra "petals" count for bonus vulvas. It also has two breasts, a little crushed, of course, but the whole has to form a pretty bouquet …
The mutant triple penis dildo
What about the tri-penis? This concept offers a range of various shapes, depending on the direction in which the three phalluses have merged.
Oxballs, with the Tres Leches dildo (which one could translate from Spanish as "three milks"), opts for the triple longitudinal penis.
TSX Toys opts instead for the triple stacked glans, with the Three bangs for your butt.
But, so that we are spoiled for choice, this brand also offers the Double Wham-Me, a tri-directional phallus. Only "double", not triple, because only two of the three penises that constitute the sextoy are usable, the third being the handle.
I have just discovered this strange brand, "TSX Toys", and it seems to me that they produces at least half of the creepy sex toys on the net …
The triple cock, including tours
Oxballs' 3-Way Triple Penetrator is a quite peculiar mutant sex toy. Indeed, it allows you to integrate your penis into a trio of cocks in order to penetrate your partner with the dicks machines simultaneously.
The single-ball dildo
Oxballs' Onenut Dildo may represent a cripple rather than a mutant. In any case, this poor dildo corresponds to the definition of the scientific term "one nut".
Well, its glans is a little weird too, so one can assume it's a deformity and not the result of a horrible accident.
The boob butt plug
Still at Oxballs, the Boob Buttplug reinvents the boob, with a butt plug version. Yes, these things are supposed to represent breasts. Human breasts? Not sure.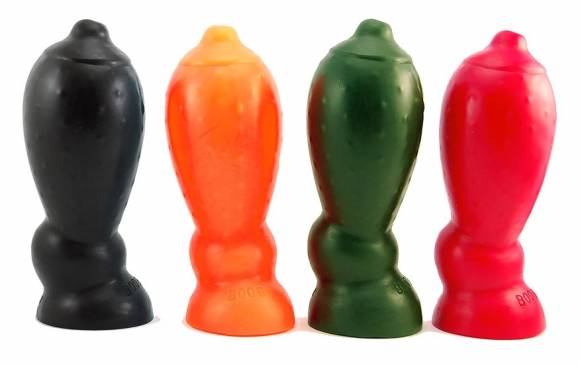 Animal mutant sex toys
An hybrid sex toy, half penis, half clawed paw
The Bad Kitty dong is a hybrid: half paw with six sharp claws, half penis. It is aptly named: indeed, unlike the Hello Kitty vibrator, this kitten does not look very nice. Another mischief of the TSX Toys brand.
The snake-cock hybrid dildo
As for reptiles, still from the same brand, the Serpenis is a snake-penis with funny pointed appendages. If the tiny one is for the clit, ouch! And the Cobra is a snake dildo that looks suspiciously like Jar Jar Binks. Could this be a failed Star Wars dildo attempt?
The centipede vibrator
Centipedes are quite disgusting poisonous creatures.
For the sake of realism, the Centipede vibrator, sometimes also named Dragon, half phallus, half centipede, is made of jelly, thus probably irritating.
Mutant sports-loving sex toys
La batte-bite
Due to the phallic shape of a baseball bat, sex and baseball go hand in hand. You only have to take a look at the many videos showing people fucking themselves with a baseball bat to realize this.
But having fun with an object that has been lying around on a stadium is not very hygienic. This is why TSX Toys (again this brand …) created the Baseball Banger. A baseball bat is nice, but a cock bat with baseball-shaped balls is even better.
The football-loving rabit cockring
Do you think you've seen enough horrors for today? Close your eyes: you don't want to see the football cockring.
At the same time cockring, soccer ball and rabbit, made of pastel jelly, this awful gadget vaguely pretends to be a sex toy.
Skin rashes
Well, let's be realistic: mutations that give three arms, three breasts, three penises or three vaginas happen mostly in science fiction. In the real world, a mutation mainly causes health problems, such as a weird skin texture, for example.
The wart dildo
The pineapple dildo, from Creativ Moldings, is covered with pustules… Unless they are warts? In any case, if you see a pineapple that looks like this, don't eat it.
The almost fantastic dildo
The Stone Man dildo (I'll let you guess the brand) should remind you of a famous character …
A little bit of resemblance, right?