If you have ever dreamed of erotic jedi fights with your significant one, you'll be pleased to learn that yes, there is such a thing as a lightsaber dildo. As well as a multitude of other Star Wars sex toys.
It all started with Geek Kink, an Etsy store specializing in geek-inspired handcrafted BDSM accessories.
To their repertoire, Doctor Who, Hello Kitty, My Little Pony and even Harry Potter inspired spanking toys… And most importantly, a lot of Star Wars themed BDSM toys.
Lightsaber whips and crops, Jedi or Sith paddles… There was enough choice to please people with any Star Wars-related sexual fantasy, but also collectors and cosplayers.
Faced with their success, Geek Kink stopped selling on Etsy to plan opening their own site. But they had started a trend, and, since then, a lot of Star Wars-inspired sex toys have started being sold on Etsy.
Stormtrooper spanking
To stay in the same register as Geek Kink, let's start with Sporkwood, an Etsy store that sells pretty laser-engraved wooden paddles made with "Leopard tree".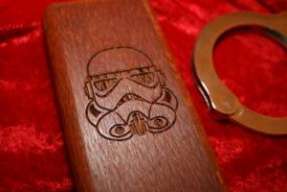 One of them is adorned with a rather cute little stylized Stormtrooper. But for those who prefer kawaii bowties to space armors, they also sell a few kinky Hello Kitty toys.
The lightsaber dildo
Less pretty, but still funny, there is the Star Wars lightsaber dildo. This lightsaber dildo is the result of the combination of a toy lightsaber handle, a light emitting diode and a dildo.
Less pretty, but still funny, there is the Star Wars lightsaber dildo. This lightsaber dildo is the result of the combination of a toy lightsaber handle, a light emitting diode and a dildo.
The lightsaber dildo, sold by Dark Side Of Pleasure, appears to be jelly (ugh!) …
Sure, a glass (for transparence) lightsaber dildo would have been body-safe, but it would then have been impossible to fight with it as a sword without breaking it. And what's the point of a lightsaber that you can't duel with? None.
Edit (April 2017): New lightsaber dildos have appeared, created by Geeky Sex Toys, and they're made of silicone!
Darth Vader dildo
The Dark Invader
Sexually, staring wondering "do I want Darth Vader to visit my dark side?" is a rather curious path. It's roughly the same as dwarf-shaped dildos cravings, but darker. And including the force. Well, the dwarf has magical powers too, but finding stuff in the mines and being friends with Snow White is not the same kind of power.
Eventually, it all comes back to slipping the statuette of a guy with a weird hat in one's orifices. But hey, why not, after all.
Gespensts Fantasy Gear allows ordinary people to realize this rather singular fantasy, with the Dark Invader, a Darth Vader black silicone dildo that also has a much less impressive pink version.
The Dark Vader
Edit (october 2013) : there's also the Dark Vader, from TSX Toys.
The R2-D2 vibrator
Star Wars isn't all about humans and aliens: it would have been rude to forget the cute robot R2-D2.
Geek In The Sheets puts the little robot in the spotlight with a battery-powered vibrator, decorated to look like it. Unfortunately, this one doesn't beep like the original.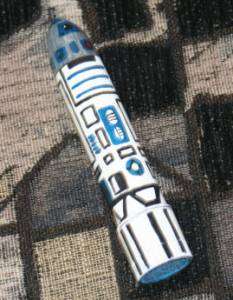 It looks like paint on a standard sex toy, and paint isn't body-safe at all, so it's best to think of it as a collector's item, rather than as a sex toy per se.
For that matter, its creator recommends that it be reserved for decorative purposes or for external use only.
Edit (april 2017) : Created by Geeky Sex Toys, the R2-V2, a new R2-D2 vibrator, looks like a Magic Wand and seems to master the Force better.
Créé par Geeky Sex Toys, le R2-V2, un nouveau vibro R2D2, aux airs de Magic Wand, semble maîtriser davantage la force.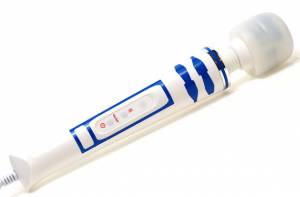 … Et C-3PO, , now turned into a butt plug, joins the party.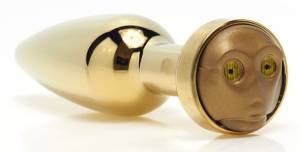 A bit of burlesque from the stars
Yoda nipple pasties
I naively thought that the wise old alien had escaped these frivolities … It was without counting the Yoda nipple pasties, sold on Etsy by Pretty In Pasties.
Uh … With sequins and green frills, your tits will be?
The result is really cute, although a bit kitsch: I have only one desire whe I look at them, to pet those cute green glittery muzzles.
Storms troopers pasties
To stay in the field of ornaments for boobs, here are the Storms troopers pasties, coinceived by Fanatic Fetale.
This Etsy store also sells nipple pasties representing Ninja Turtles, Pacman, Star Trek, Superman, Batman, Pokeballs, Ghostbusters, Mickey Mouse, and even Felix the cat. In short, a whole bunch of great accessories, certainly not very useful, but really classy.
Han solo frozen in carbonite
Now let's leave Etsy with a scene from Star Wars revisited by Kink Engineering, a a website specializing in fetish accessories and latex clothing : Han Solo frozen in carbonite.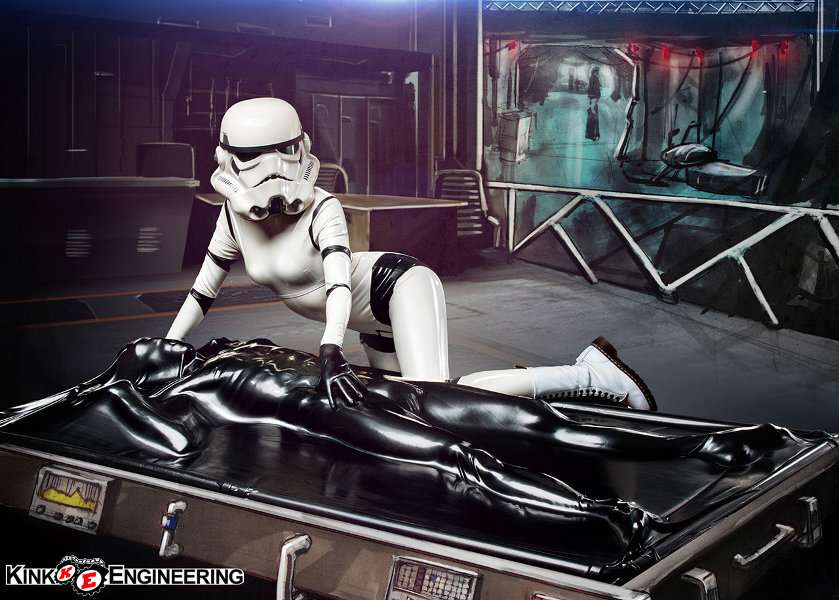 The device which acts as carbonite is a "vacuum bed" or "Vacbed", a latex bondage accessory.
The person who wishes to be immobilized enters a latex bag (equipped with a system allowing to breathe the outside air: hole, tubes, tight seal at the level of the neck or around the face or a gas mask).
Then, the air inside the bag is removed with a vacuum cleaner, which "seals" the person inside, preventing them from moving thanks to low, but constant pressure on the whole body. A valve prevents air from re-entering the bag once the vacuum is turned off.
Touch, hot and cold sensations, and vibrations are noticeable through the latex, allowing the person outside to physically interact with the one playing the role of Han Solo.
The Darth Invader
The Darth Invader, clever mix between Darth Vader, a vibrator and a box of Pez candies, is unfortunately only a well-illustrated myth, which has been lying around the net for a while.
Au cas où vous auriez des doutes à ce sujet, la mention "respiration rauque incluse" devrait vous convaincre qu'il s'agit d'un fake.
Edit (December 2017): Since then, a slew of new Star Wars-themed sex toys have been created.