Some time ago, we reviewed the Zumio X, a sex toy with an oscillating rod that stimulates the clitoris intensely and with precision. The Zumio E, little brother of that unusual stimulator, has just been released. His particularity ? The rod now oscillates in an elliptical path, not a circular one.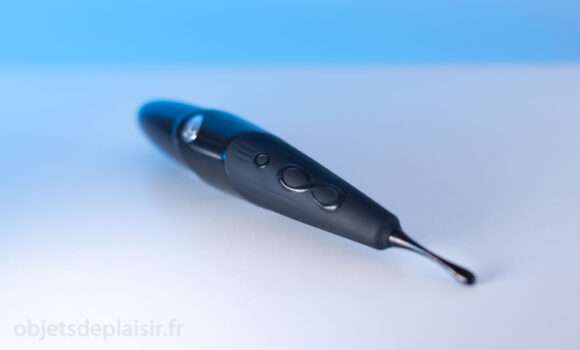 The Zumio is an alien in the world of sex toys. Tiny, yet hugely powerful, this new concept of stimulator, designed to explore your own anatomy, immediately won me over when I discovered the first model. But keep in mind that this amazing clitoral stimulator is not for everyone.
Here is our Zumio E review.
Unboxing and Packaging
The Zumio E is packaged in a sturdy thick cardboard box, but that you probably won't want to keep forever.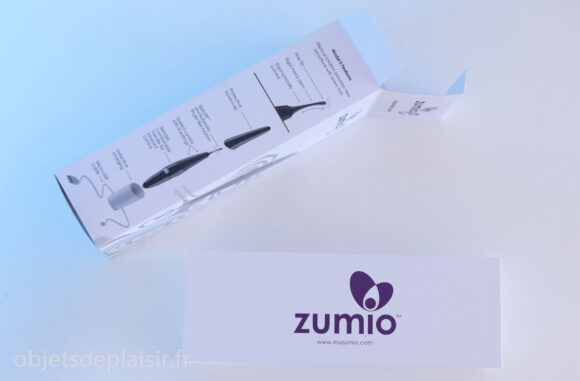 No storage accessories are provided. However, while the Zumio X roamed unprotected, risking to break its thin shaft, the Zumio E has a protective cap.
Look of the Zumio E
The Zumio E, with its cap, looks like some kind of big pen. The tip is a sort of antenna overhung by a ball. The Zumio X one was perfectly round, while this one is oval.
While more cumbersome than your traditional bic pen, it's not a "pocket" vibrator, but it remains small enough to fit in a handbag.
Texture and material
The Zumio E is mainly made of rigid plastic. This material, which makes up some wand vibrators such as the Fairy, transmits vibrations well, and is body safe, but the rigidity makes it somewhat "rough", hard, against the clit. the rod is also covered with plastic, but the packaging tells us that underneath, it's metal, and therefore sturdier than what you might think at first glance.
A silicone coating surrounds the controls, making the sex toy rather pleasant to handle.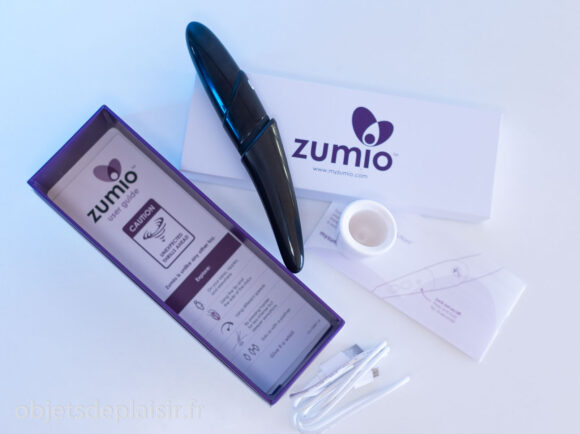 Powering the Zumio E
The Zumio E has a small circular charging station, which plugs into a USB port using a cable. The sex toy, placed inside, stands upright, and an LED lights up during the charge.
The charge takes several hours. But then I found the battery life rather long.
The sex toy is fully waterproof. No problem to wash it, just wash it with soap and water.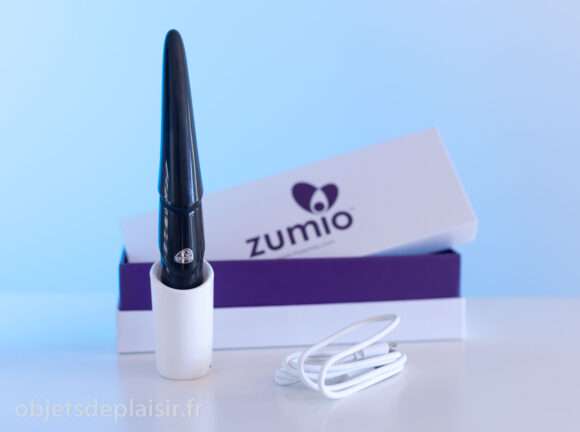 As for the use in the shower or in the bath, it won't damage the sex toy, but will you really want to give it a try ? In water, lubrication is honestly not that great, and any lubricant wears off soon after being applied. But, using the Zumio, if you want it to be enjoyable, requires you to use a good chunk of lubricant. Otherwise, beware of friction!
Controls and Vibration modes
Zumio E controls together form a small circle and an infinity symbol.
The circle allows you to turn on and off the sex toy. The two halves of the infinity symbol allows you to adjust the vibrations intensity (or rather, the oscillation speed).
There are, in total, eight oscillation speed settings.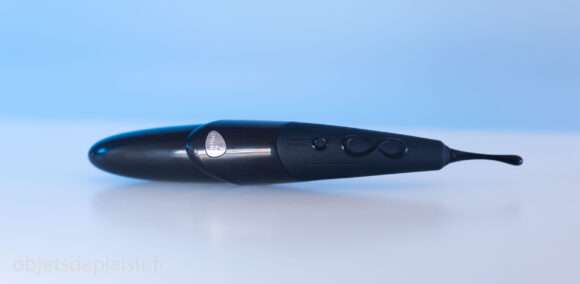 Using the Zumio E
Let's start with the Zumio E working principle: the rod oscillates at very high speed, following an elliptical trajectory. It provides a stimulation that is very similar to vibrations, but intense and targeted on a specific area.
The Zumio E can be used in two ways: gently, or more brutal.
Using it gently
If you prefer gentleness, you can caress the periphery of the vulva and the lips with the rod, taking your time to caress, tickle every square inch of skin. It can also be used to stimulate the breasts.
All this can also serve as foreplay for the next step… If you dare to try it !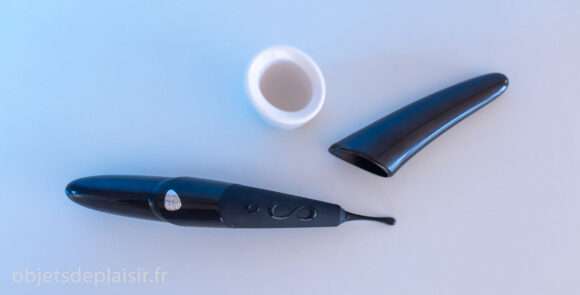 Or directly on the clitoris
The more hardcore way is to place the rod of this apparatus, whose frantic rotations suddenly remind me of the disturbing image of a Dremel approaching my vulva, directly against the clitoris. With lots of lubricant, obviously.
The effect is instantaneous, it's borderline bearable, and pof!, instant orgasm. And the said orgasm is intense. You can then start again, with small breaks between each orgasm, just to let the clit recover from its emotions.
The Zumio will not suit all anatomies, and may even be downright painful for sensitive clitoris. Before you choose it, pay attention to the sensitivity of your clit. Is he rather the type to be scared of vibrators like a Fun Factory or Lelo Classic, or to bravely face a Magic Wand at max setting ?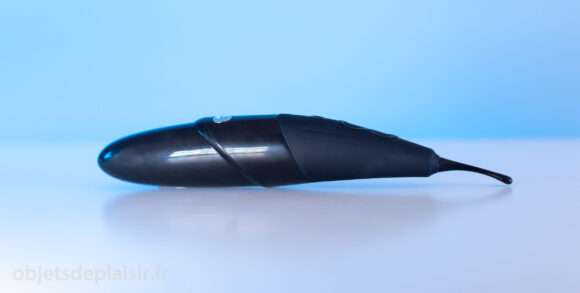 And for a couple ?
The toy is primarily designed for a methodical exploration of solo orgasm. It's a sex toy you keep at bedside to fall asleep pleasantly.
For two people, it will be more complicated. Indeed, it was difficult for me to keep the tiny rigid rod in place right up against my clit, while I was simultaneously otherwise occupied doing other naughty things with my partner. We haven't tried it, but maybe in a BDSM setting, where the stimulated person would be kept still, it might be fun.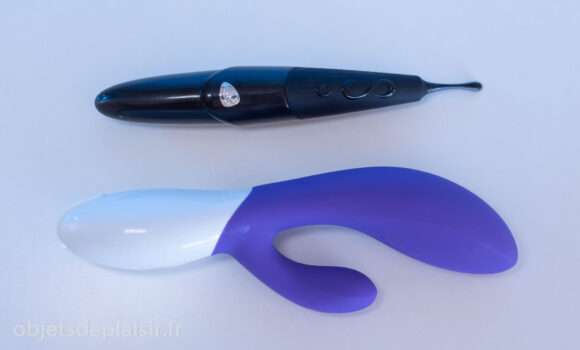 Zumio E or Zumio X ?
The Zumio E is more powerful than its predecessor, there's no doubt about that. And the cap makes it more convenient to store.
But what if I had to judge only based on the stimulation? Well, the difference between circular oscillations can indeed be felt if you use them one after the other to compare, but it's not very obvious either. However, if I really have to choose the sensations I prefer, it's the Zumio X's.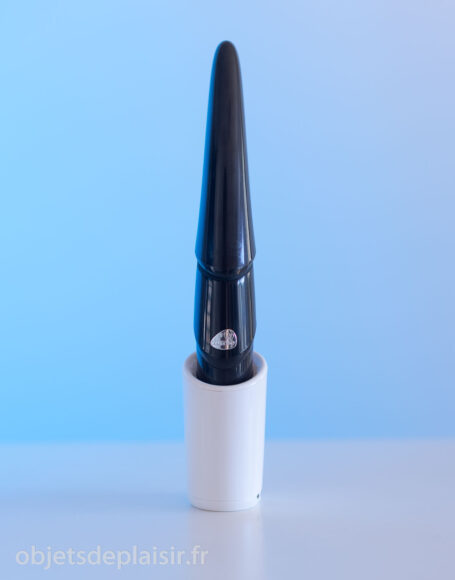 Conclusion
The Pros:
It is an

extremely powerful

sex toy, but

very small

and

not very noisy

. The ultimate combo that was no longer expected!

It allows for a

new type of stimulation

, combining

precision

and

extreme intensity

. Discovering a new way to explore your body and achieve orgasms is a great experience!

The

orgasms

thus obtained are extremely powerful.
The Cons:
The stimulation, very targeted and intense, will

not suit sensitive clitoris

.

It is not very practical to use

for two-person

.
Review score
Pros
Extremely powerful
Gives intenses orgasms
Unusual sensations
Small in size
Not very noisy
Cons
Not for everyone
Not ideal for a couple
The Zumio E is an unusual sex toy, which will reveal sensations of dazzling intensity to the clitoris that are not too shy. But the more sensitive clits will have to keep carefully away.
Thanks to la marque for providing us with the Zumio E for this review